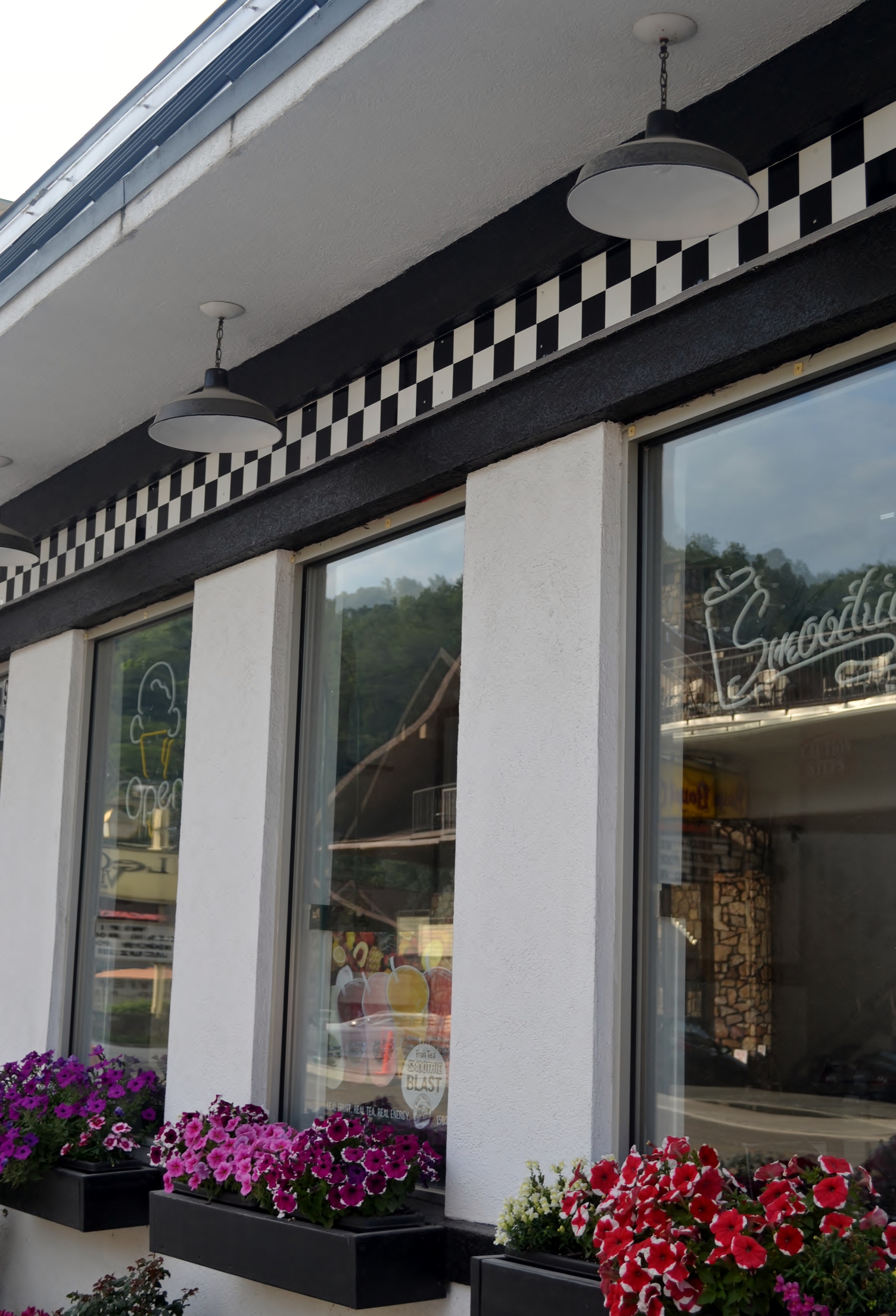 Classic Black Porcelain Warehouse Shades for Ice Cream Shop
On a recent trip to Gatlinburg, Tennessee, we were struck by the gaudy attempts of some businesses to dress up the old storefront to garner attention from the thousands of passersby each day. This ice cream shop, however, struck us as a classic black-and-white design that evokes memories of the soda fountain days when a root beer float cost a quarter, and you sat at the counter on short stools that twirled around. The checkboard pattern breaks up the solid black, and the window boxes full of seasonal flowers add a splash of color. And to top it off like a cherry on a sundae, beautiful porcelain barn lights!

These lights closely resemble our Benjamin® Union 14″ Porcelain Stem Mount Light, an excellent choice for outdoor locations. The Benjamin® Union features a stacked neck design much like the Sky Chief and Aero fixtures but then curves down into a mid-sized warehouse shade. This stylish fixture takes care of lighting up the window boxes and sidewalk at night without the garrishness of neon!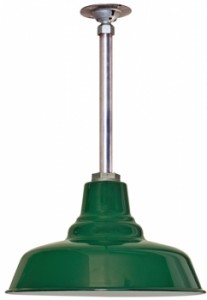 The Benjamin® Union is available in six, shiny porcelain enamel finishes including classic black or white, and also green, creamy jadite, bronze, or brilliant cobalt blue. A variety of stem lengths can keep your light close to the ceiling or bring it lower to focus your light on a particular space. The stem and canopy finish can also be customized.
The porcelain enamel coating on the Benjamin® Union, like all of our American made porcelain lights, is one of the most durable, long-lasting finishes you can buy. Each shade is spun from commercial grade steel then the glass enamel coating is hand applied giving each shade a distinctive look. It truly is one of a kind! And the best reason to buy porcelain — your shade will never fade, deteriorate, or corrode no matter where you choose to hang it!