Catskill Farms: Creating Custom American Homes
Charles Petersheim is an extremely successful builder and developer in Sullivan County, New York. After the September 11th tragedies, he picked up and left New York City and worked by fixing up a few old barns in the Sullivan County area. Eventually, Charles began designing and building homes that focused on the prevailing "new old" concept. By using local materials within the building process, like creating a driveway from stone that has been grated out of the ground, the homes that Charles and his crew build have become increasingly popular among urbanites wishing to have an escape from the hustle and bustle of the busy city.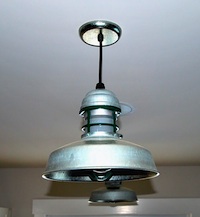 With all of the closings, sales, and new constructions, the Catskill Farms team often asks the question, "What recession?" The homes built by the Catskill Farms are ideal for those looking for that dreamy, old American home without having to deal with the renovations and updates required when purchasing typical old country houses. The "new old" homes allow for customization so the intended owners can truly make their Sullivan County home into their dream country home.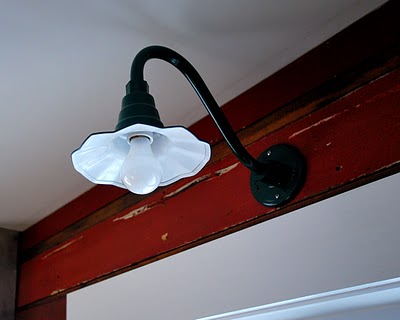 And where better to find lighting to match the industrial farmhouse feel? Fortunately, Barn Light Electric is able to supply more than enough options for these new homeowners to choose from. Combined with the salvaged red wood siding and the stained birch countertop in the kitchen, the Barn Light Outback Warehouse Pendant as well as the Barn Light Aztec Sconce provide the ideal ambiance for this country cottage. The wall sconce is mounted on salvaged red barn wood hung over the eight-panel window and farmhouse sink, while the two warehouse pendants linger over the wide plank wood floors. Even if your home isn't located in the woods of upstate New York, by bringing barn lighting into your home, your home could feel like one of the spacious homes in the Catskill Farms.