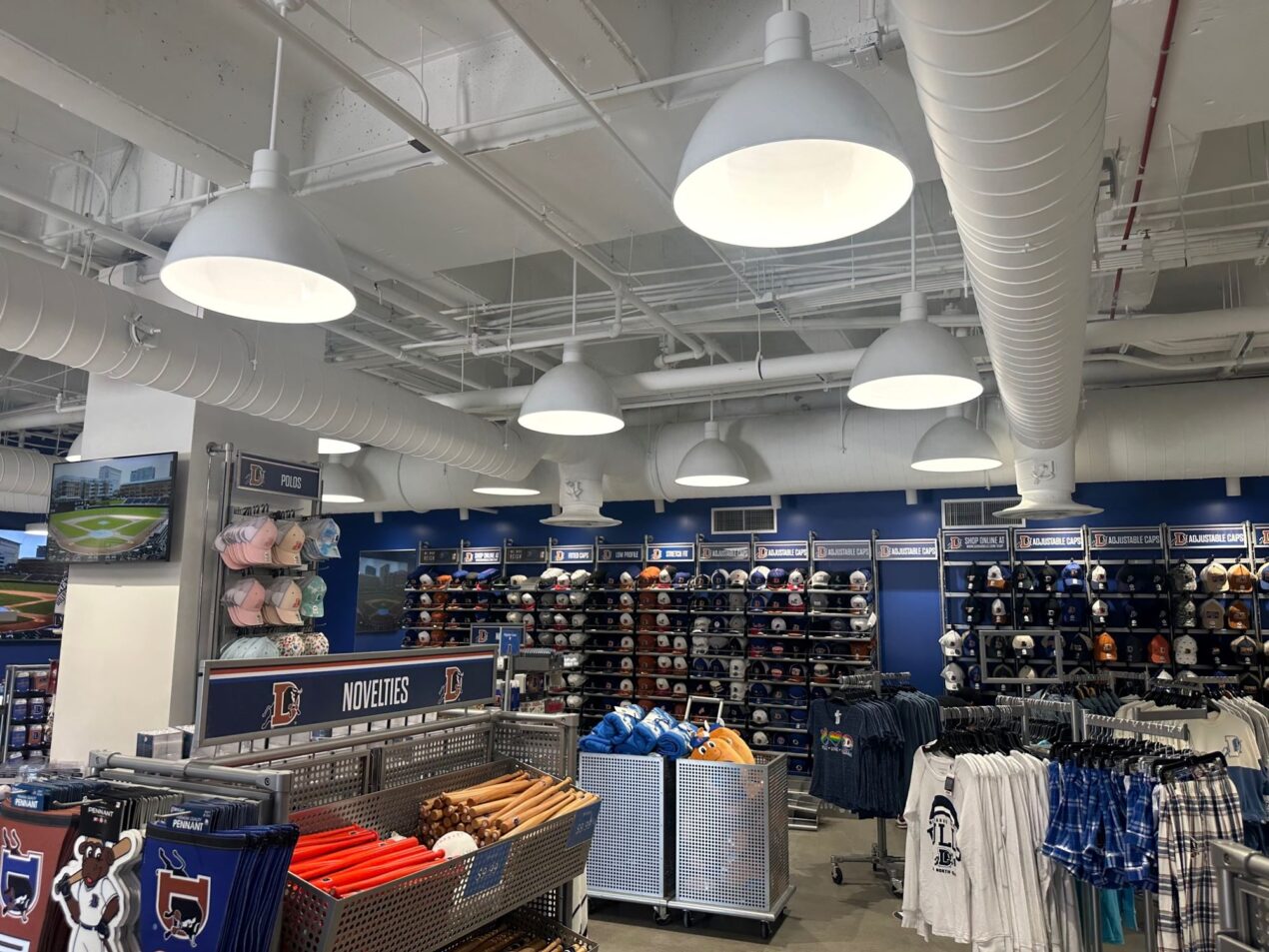 Minor League Ballpark Goes Green with USA-Made LED Lighting
Don't let the "minor" in minor league baseball fool you! From enthusiastic crowds to the up-close action on the field, every game is just as exhilarating and interactive as its major league counterpart. In Durham, North Carolina, fans enjoy a 10,000-seat ballpark that is home to the Durham Bulls, the Triple-A affiliate of the Tampa Bay Rays of Major League Baseball.
Fans flock to the stadium's Ballpark Corner Store to stock up on Bulls t-shirts, ball caps, and home décor, to profess their devotion to the team. The store was recently renovated to bring an updated look to the space. Outdated ceiling boards and fluorescent lights were stripped away for a more industrial look with exposed ductwork and American-made LED lighting from Barn Light Electric.
Owners worked with TEAM Lighting, Barn Light's commercial representative in Durham, to select the new lighting. The oversized Wilcox LED Deep Bowl Stem Mount Pendant scored a home run with the design team. These handcrafted lights feature a generous 24″ shade, powder coat White finish, and 24″ stem. Thanks to its deep bowl design, these fixtures offer plenty of downlighting with no glare making shopping a pleasure!
The Wilcox features fully integrated LED components. This remarkably efficient technology not only uses less electricity when producing illumination, it also produces very little heat. The result is greatly reduced energy demands, lower power bills, and environmental sustainability.
Like all of Barn Light's LED lighting, these Wilcox pendants are easy to customize with size, finish color, and mounting options. There are also several LED options that help create the right ambiance for commercial settings. The design team chose the 3000 lumens package with a 4000K cool white color temperature for maximum illumination. The fixtures also feature a flat lens.
In addition to requiring far less energy to operate, fixtures with integrated LED modules require less maintenance as there are no bulbs to change. The modules typically produce an average of 50,000 hours of illumination. Energy saving, environmentally friendly, and low maintenance — Barn Light's LED Collection is a lighting grand slam!