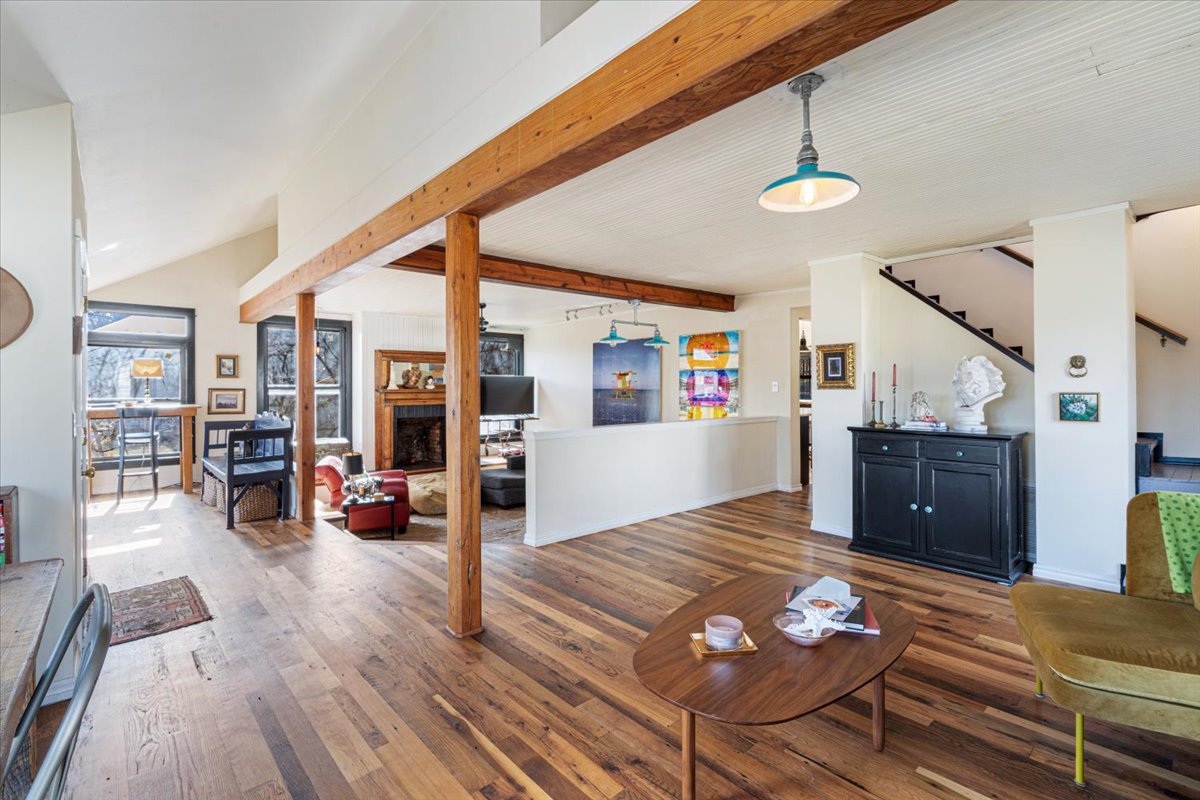 American-Made Lighting Boosts Home's Selling Potential
When you're selling your home, every detail counts. And one of the most important details is the lighting. Good lighting can make your home look brighter, larger, and more inviting to potential buyers. Executive broker Becky Carter of Urban Cottage Real Estate in Arkansas knows full well the impact lighting can have when selling a home.
"Lighting is so important," Becky says. "People notice if the fixtures are custom or different from other homes. It stands out and says, 'This house is elevated.'" One of Becky's recent sales in Fayetteville, Arkansas, featured Barn Light Electric fixtures throughout which helped set the home apart from others in the area.
The home features a spacious living area with separate spaces for reading, relaxing, and watching television by the fire. Accented with warm wood throughout, the room gets a touch of industrial style from the Marathon SoHo Stem Mount Pendant. This handcrafted pendant light features a 14″ shade with an eye-catching Teal powder coat finish and Galvanized stem.
Across the room behind a half wall is a cozy sitting area with the fireplace and TV. This space is highlighted by a Marathon SoHo 2-Light Chandelier in a matching Teal finish. The 6″ stem also sports the Galvanized finish to match the SoHo Pendant.
The homeowner kept the industrial vibe going in the kitchen as the generous island is illuminated by three Canal SoHo Pendants. These sleek pendant lights are customized with a Black powder coat finish and black-and-white cloth cords that add a hint of texture.
Over the sink, a complementary Marathon SoHo Sconce brings light to the tasks at hand. This rugged wall light is customized with a 12″ shade, powder coat Black finish, and Galvanized mounting.
The homeowner was attracted to the contemporary style of the Ellis Adjustable Arm Chandelier for the dining room. This American-made ceiling light is constructed with five bare-bulb sockets and arms that can be adjusted horizontally. The sockets and 12″ stem feature the same Black finish as the kitchen lights.
"The Barn Light fixtures throughout this home elevate the ambiance," Becky says. "The market is shifting, and sellers are having to justify the price they are asking. Quality lighting that is unique separates you from the builder house next door."
Photos courtesy of Urban Cottage Real Estate and Vertical Point Media