Burly Warehouse Shade Great Pick for Warehouse Artist Studios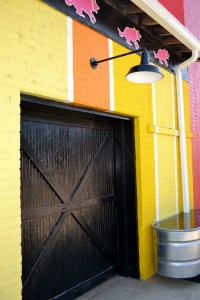 Back in the heyday of American manufacturing, Depot Street in Asheville, North Carolina was a bustling scene of production. But as businesses went under and jobs moved away, Depot Street became little more than an avenue of litter-strewn empty lots and abandoned warehouses with broken windows and graffiti-covered walls. Today, the Pink Dog Creative Studios is a testament to what vision, hard work, and a whole lotta paint can do.

Determined to create art out of chaos, Randy Schull and Hedy Fisher, two long-time Asheville artists, entrepreneurs, and activists, got to work to create this lively facade studded by classic black warehouse shades. These are similar to Barn Light Electric's Brahma, a generous 24″ or 27″ wide shade that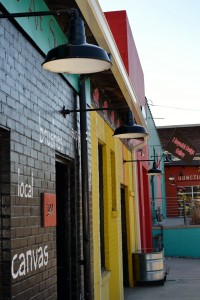 provides plenty of light on the multi-colored building and the walkways. The pink dog logo came from a well-executed graffiti tag that was on the building when they bought it. The artists decided to incorporate the dog into the building—but paint it pink—to tame the ferocious-looking dog into a more approachable and whimsical creature.
The Brahma Warehouse Shade is a great choice for a large industrial building such as this one. This hand spun, American-made shade is made with quality materials that will allow years of use. Larger or longer gooseneck arms can be selected to give the shade a further projection away from the wall to direct light where you need it most. A slightly smaller, 24″ shade size is also available.
Finishing your Brahma is akin to picking your favorite jelly bean color! We have 35 different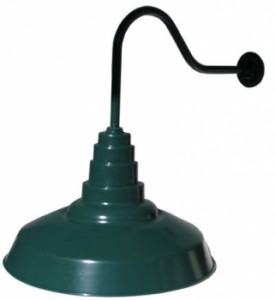 finish colors to choose from — one is sure to match your design style and space. If you want to give your fixture even more character and charm, consider adding a wire cage. This cage is especially useful in high traffic or hazardous work areas. A cast guard and glass can also be affixed to your light, with several different textures and colors available, to give a truly unique look.