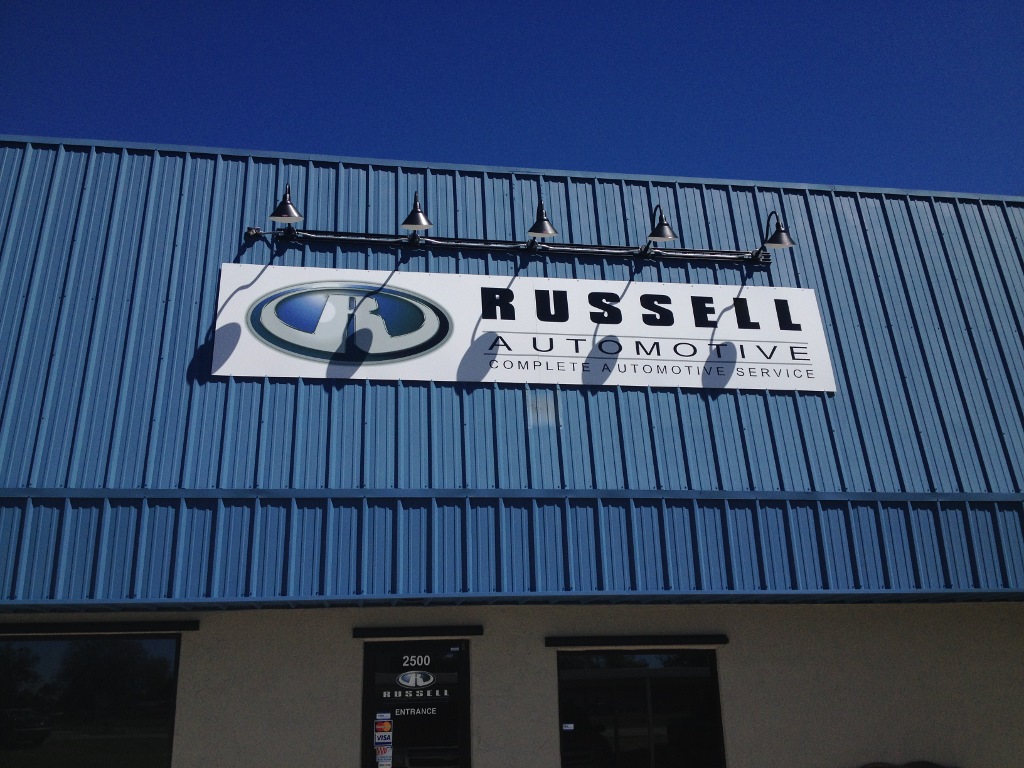 Building Bling: Classic Sign Lights Enhance Commercial Space
Many business owners spend a lot of time and money on the signage and logo that define their brand. And why not? Your brand is a critical component of your business and the look that people come to identify with you and your product. But once you perfect the logo and install the perfect sign, the job is not quite finished.
Making sure the public can actually see the sign is the final step and one that requires thoughtful and appropriate exterior lighting. Our friends at Russell Automotive recently updated their logo and installed a new sign on their building in Apopka, Florida, just north of Orlando.
"We have been in business for 33 years and in this location for 20 years," says Chrissy Maxwell, office manager for Russell Automotive. "We replaced the sign on our building with our updated logo and thought the addition of barn lights would not only brighten the sign, entrance, and parking lot, but would add a modern vintage feel to our business."
The name Russell many ring a bell with those who know that Barn Light Electric sponsors Tim Russell, one of Florida's most accomplished stock car racers who followed in his father David Russell's footsteps.
The Russells chose the 13″ Elliptical Sign Light customized with a Black finish and G22 gooseneck arm to highlight their two-story building which includes 18 full-service bays, the parts department, a customer waiting area, and a full-service front office.
"We were looking for something classy, functional, bold, and sturdy," Chrissy notes. "The barn lights fit that description to a 'T' and exceeded our expectations." Inspired by vintage Benjamin® clam shell shades, the American-made Elliptical Sign Light features a tapered cone shade that casts a perfect spotlight onto the new sign without excessive glare.
"Black is just classy. I don't care if it's a dress, a pair of heels, or a car, black is class in itself," Chrissy says. "The simple, sophisticated, and timeless style that is now incorporated into our company logo is truly satisfying!"
Photos courtesy of Russell Automotive