Professional's Corner | Nautical Lighting Suits Seashore Vernacular in Renovation
A seaside home can take on a number of different personalities from your basic beachy style to a high-end yacht look. Common themes, however, that run through many beach homes include plenty of windows, a color palette of crisp white mixed with blues and greens, and nautical style lighting.

This gorgeous home, located in Narrangansett, Rhode Island, is a bit further up the scale from "basic" but, with some interesting lighting choices both inside and out, takes on a style that gives a nod to its waterfront roots plus a hint of industrial style too. The home was renovated under the careful eyes of Ronald F. DiMauro Architects and Pastore Builders.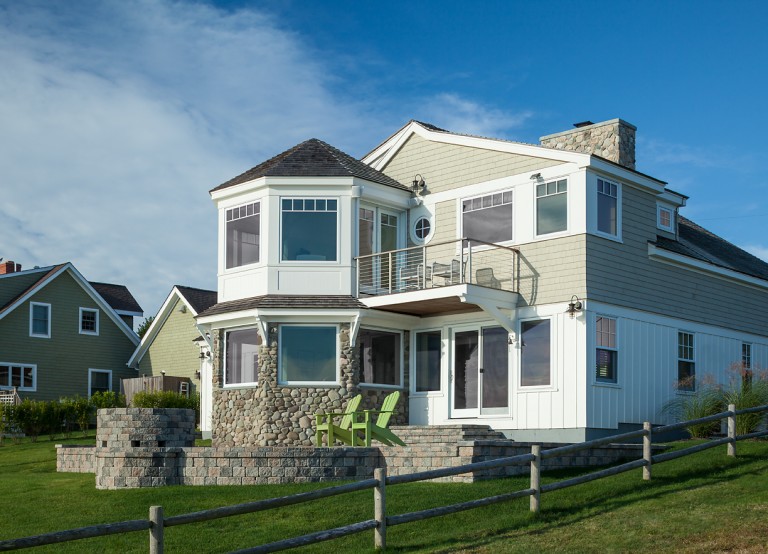 In one of the living areas, the team chose the Amidships Bulkhead Wall Mount Light to flank the television cabinet and windows.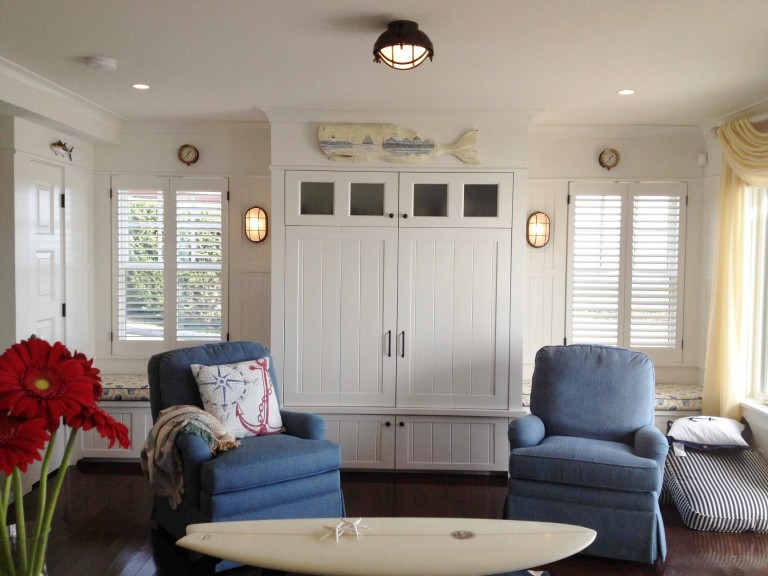 "The bulkhead lights contribute to the nautical style," says Laurie Keene. "Having the industrial look of these fixtures inside the home makes the nautical feeling more beachy." These bulkhead fixtures were customized with a Black finish and a frost ribbed lens which provide a nice contrast against the white walls.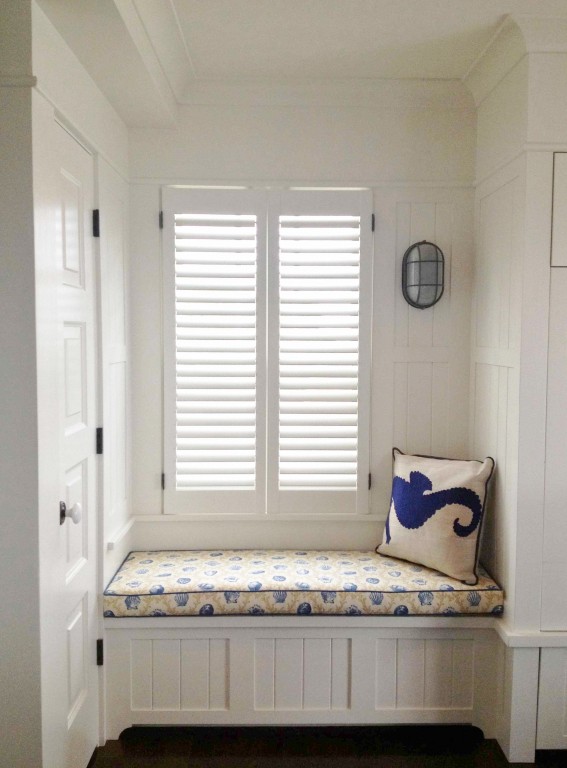 The master bedroom features an octagonal design with a vaulted ceiling to take every possible advantage of the stunning view.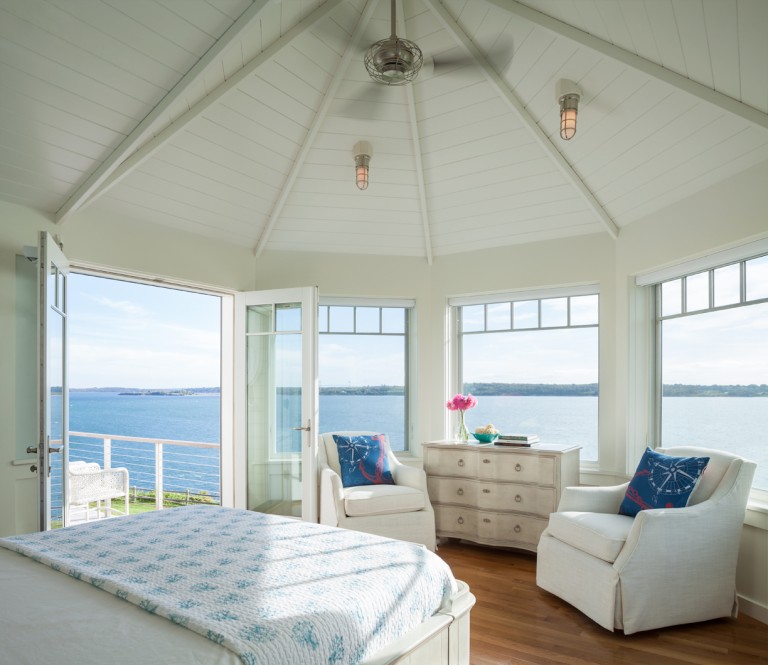 "We didn't want one large fixture hanging from the center, so the bullet lighting was a way to have interesting fixtures on the vaulted ceiling," Laurie explains. The Bullet Cast Guard is a compact sconce that provides plenty of light through its rugged cast guard design. The glass can be customized with frosted, ribbed, or colored options. For a sleeker look, the Bullet Wire Guard offers the same compact style with slender wire guards.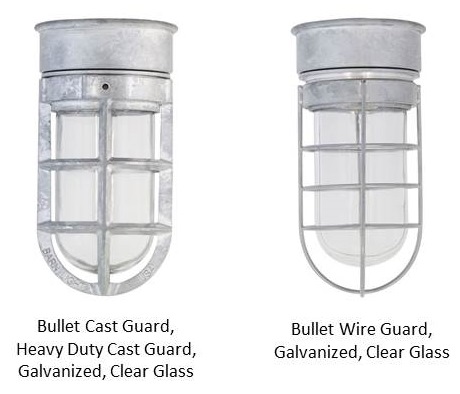 On the exterior, while some would have chosen traditional gooseneck lighting , the architects selected barn wall sconces to highlight the facade.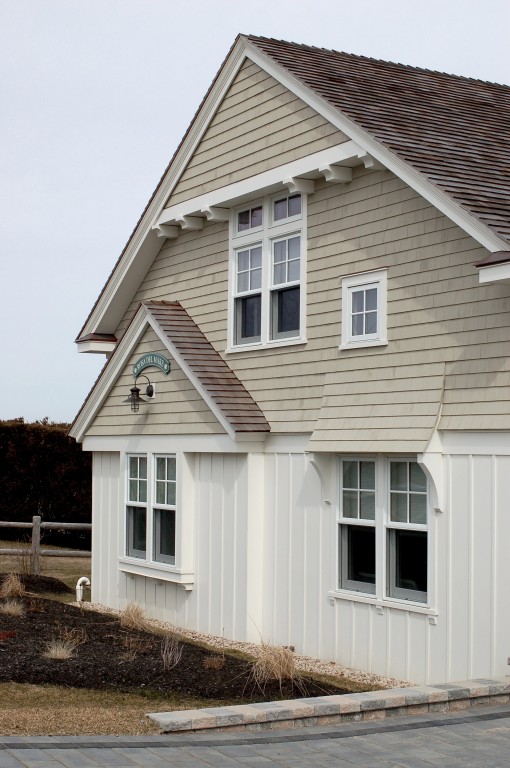 "Goosenecks are long, thin and protrude off the wall," Laurie says. "We liked that the barn sconces are stout. They fit better with the exterior massing." The team chose an oil rubbed bronze finish for the wall sconces.
"The finish looks great against the white paint and gave a slightly higher scale cottage feel," Laurie adds. With so many lighting choices to make when building or renovating, Laurie offers this advice to homeowners.
"Size up! We choose larger sizes than you would think in order to make any space, interior or exterior, human scale," she says. "Our exterior fixtures are usually at least 16″. We feel that oversized and appropriate lighting fixtures can really add to the detailing of the building."
Photos courtesy of Ronald F. DiMauro Architects and Warren Jagger Photography