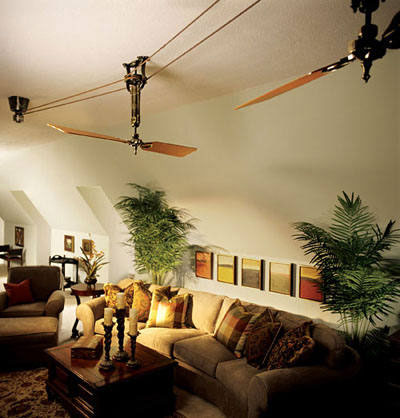 Belt Driven Ceiling Fans for your Industrial Farmhouse
Details make the difference between a full reproduction of original farmhouse style and a mere tribute to the traditional style. With a design inspired by the Gilded Age and the Art Deco Era from the 1920's, Belt Driven Ceiling Fans revive and restore the rustic look of an industrial farmhouse.

Ceiling fans are some of the most important products to consider during an upgrade or renovation that intends to preserve historic style. Unique Vintage Fans at Barn Light Electric include the Brewmaster Belt Driven Ceiling Fan, which resembles the original Snediker & Carr® designs found in barber shops, bars and breweries the from the late 1800′s.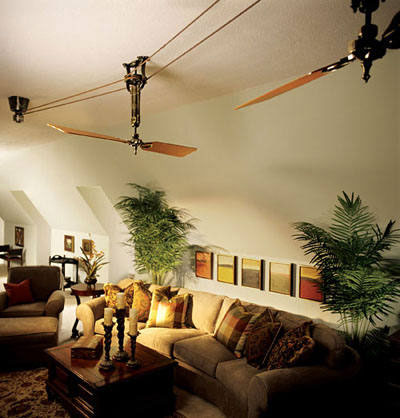 The Brewmaster comes with a remote control, 30′ of belting and allows you to choose which blades work best for your setting. To give the Brewmaster an exotic and tropical look, you can also choose palm leaf or bamboo blade sets!
Other belt driven fans, such as the the Bourbon Street Fan combine timeless style with modern components. It is available in two versions: The Bourbon Street Short Fan and the Bourbon Street Long Fan. A gearless direct drive motor powers the  Bourbon Street Fan's motor. A motor connects to the fan base with neoprene belting, which rotates the hardwood laminate blades. The Short Fan's neck extends 21″ from ceiling to bottom of the switch housing and the Long Fan's neck extends 36″. Both versions are adaptations of the models that originally produced in the late 1800s by Snediker & Carr®' the premier belt-driven fan manufacturer of the era. The new versions of these timeless masterpieces are easier to operate and install, with added durability. Plus, note the photo above. By connecting more than one fan up to a motor, Belt Driven Ceiling Fans can assist in cutting energy costs all while having double the air circulation!
These fans have been featured on an episode of Discovery Channel's Construction Intervention, where the fan's unique appearance was used to match the authentic look of the chandeliers, pendants, ceiling fans and wall sconces at Al' Di La Old World Italian Restaurant in East Rutherford, New Jersey.