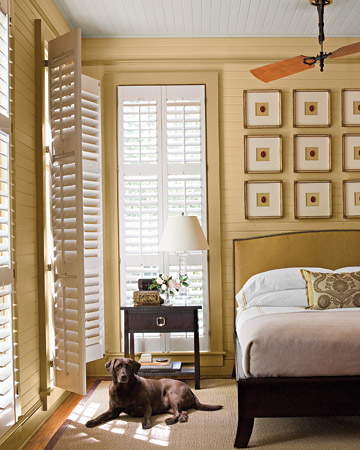 Belt Driven Ceiling Fan to Complete a Guest Bedroom
Whether you're setting up your master suite or a spare bedroom for upcoming visitors, you'll want to make sure it's comfy, soothing, and relaxing. In order to make this area as cozy as possible, there are a few things that you may want to keep in mind. First and foremost, a spacious bed with plush, warm linens will definitely give guests (or yourself) a pleasant slumber or area to lounge in. In order to accommodate more than one person in one area, we might recommend going with a full or queen size bed – two twin beds would even do if space allowed.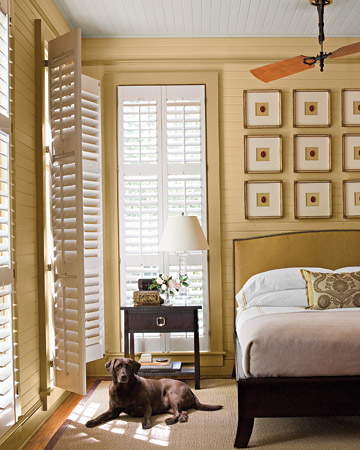 Almost equally as important as providing a comfortable bed is having an easygoing color scheme. Taking a glance at the bedroom above, soft yellow walls paired with dark wood furniture and white plantation shades give the room a soothing nature. The plantation shades are easy for guests to adjust to let in more or less natural light, and can be opened to allow the cool breeze in. Even the resident chocolate lab finds this the perfect area to lounge in.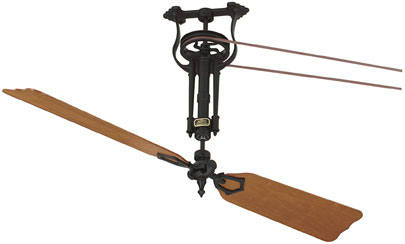 However, not every day is ideal for catching a cool breeze – the still, humid air outside isn't very enjoyable in the summertime. Even if you aren't a fan of ceiling fans, they may be a necessity to keep guests relaxed. Chances are, you probably don't realize the various styles of fans available – the days of boring store bought fans are long gone (wew!). The ceiling fan in this bedroom is almost identical to the Brewmaster Belt Driven Ceiling Fan. While stylish in appearance, the Brewmaster is also energy efficient; a belt driven pulley system helps to power the fan, so it doesn't run solely on electricity. This feature paired with the rich wooden blades gives the vintage fan a bit of old world charm. Think of the possibilities – a belt driven ceiling fan could be that missing piece to your spare bedroom.
Top Photo Courtesy of Martha Stewart Living