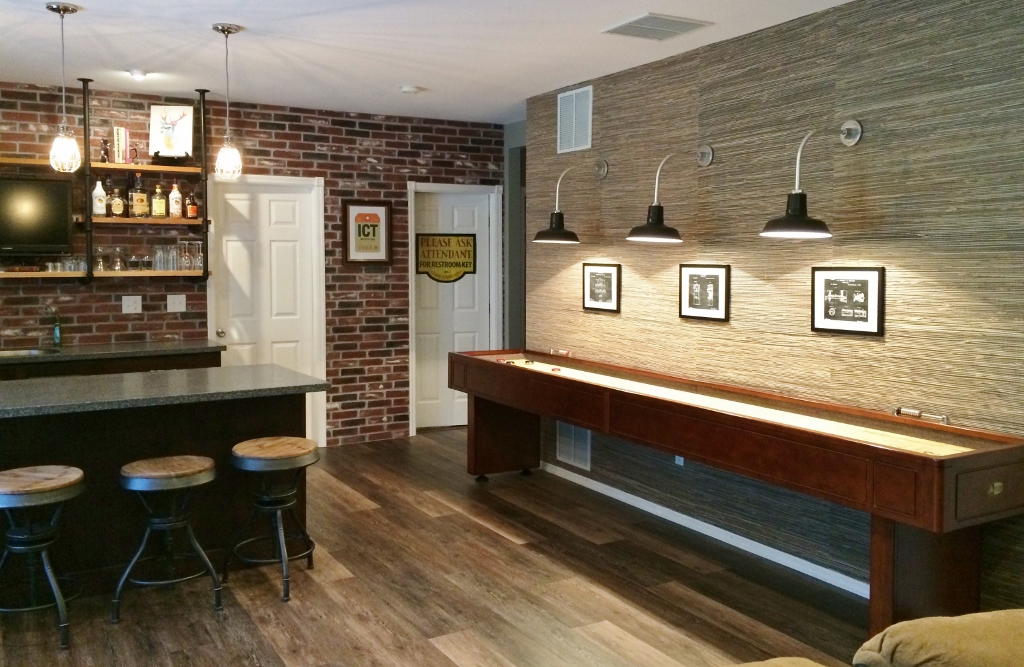 Before & After | What a Difference New Lighting Can Make
When looking to freshen up a space in your home, there are many options all with varying price points. New paint is relatively cheap and easy, but updated lighting also offers a budget-friendly change and demonstrates what a difference one single element, like good lighting, can make.
Today, we take a look at some before-and-after photos shared by our customers who used lighting to create a whole new look in their homes.
Michelle transformed her basement, above, into an industrial, urban bar setting with wood flooring, brick, and gooseneck barn lights highlighting the new shuffleboard table.
She chose the Original™ Warehouse Gooseneck Lights customized with 12″ shades, a Black finish, and G12 gooseneck arms in Brushed Aluminum. You can read more about Michelle's renovation here.
As a professional house flipper, Mike knows full well the value of each step in a renovation. He also used the Original™ Warehouse Gooseneck Light, in a vivid Chartreuse finish color, to add a contemporary flair to this lake house.
"It's just a classic style and I wanted to make a statement with that vibrant color," he notes. "It was the ONLY option!" Mike loved the color so much, he took the light to his local home improvement store where they nailed the color match for the front door.
Annie, who writes about home design and décor on her blog Most Lovely Things, wanted to transform the look of her detached garage. Moody black paint, revamped landscaping, and a new portico over the side door added a cottage feel. 
She also chose an Industrial Guard Sconce in a Galvanized finish to brighten the improved doorway. A rugged cast guard protects the bulb while clear glass provides plenty of light.
And we fell in love with the before photos shared by the Pine Grove Missionary Baptist Church in nearby Christmas, Florida. From the 1940s, which shows the sanctuary with a vintage barn pendant hanging from above…
…to the fluorescent lights used in the same space in the 70s or 80s. The church elders, however, wanted to bring back the classic look of porcelain enamel lighting from the earlier days.
"We didn't really like the industrial look of the fluorescent lights," says Clarence Canada, one of the church's trustees. "We have original windows, original floors, and original pews so we wanted the lights to lend themselves to that earlier period."
They opted for the Sky Chief Porcelain Stem Mount LED Light to provide the timeless look they desired along with the latest in LED technology. These handcrafted pendants feature 20″ shades with a White finish and a 36″ Brushed Aluminum stem.
For the latest inspiration photos shared by our customers, be sure to subscribe to the Barn Light blog. You'll read about some great projects, and we won't clutter up your inbox or sell your contact info!