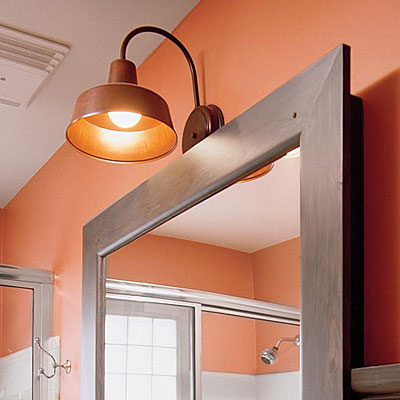 Barn Wall Sconces Perfect for Small Spaces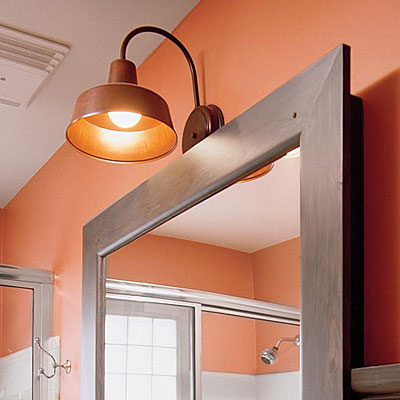 Recently Southern Living posted an article on how to max out a small bathroom. One of their big ideas was to get creative with lighting! In the bathroom featured, they used a small barn sconce as a vanity light over a wood framed mirror. Other suggestions given were to take a chance using bright colors on the walls, and wood wainscoting to break up the wall space. By following the above suggestions, adding character and charm to a small bathroom isn't as tedious of a task.

The light featured in the article is a dead match to the Barn Light Austin Sconce. As one of our bestsellers, this wall sconce is perfect for placement above a vanity like this, especially in such a small area. Available in an 8" or 10" shade size, it is big enough to pack a punch as well as the light you need, but small enough to not overpower other decorative elements in the bathroom. The aged finish, bearing resemblance to our Rosewood finish, even adds a rustic, outdoor element.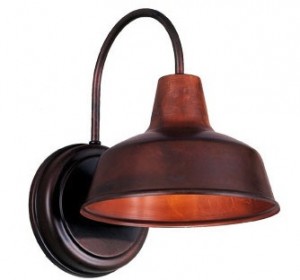 The Austin Sconce is ideal for other small spaces as well. Mount one on each level of a set of bunk beds to provide a convenient reading light for your little ones. This light is even UL Listed for wet locations, making it perfect to place at an entryway or on a back porch. Should you wish to echo the Austin Sconce's shape as a pendant light, check out the Barn Light Warehouse Pendant. This barn pendant is available as an 8-10" pendant light, or a larger 12-27" version, adding onto the flexibility of this warehouse shade.
If you need your new barn light in a pinch, check out the Barn Light Warehouse Sconce. This Discount Barn Light is made in the USA, and is guaranteed to ship to you in five business days or less!