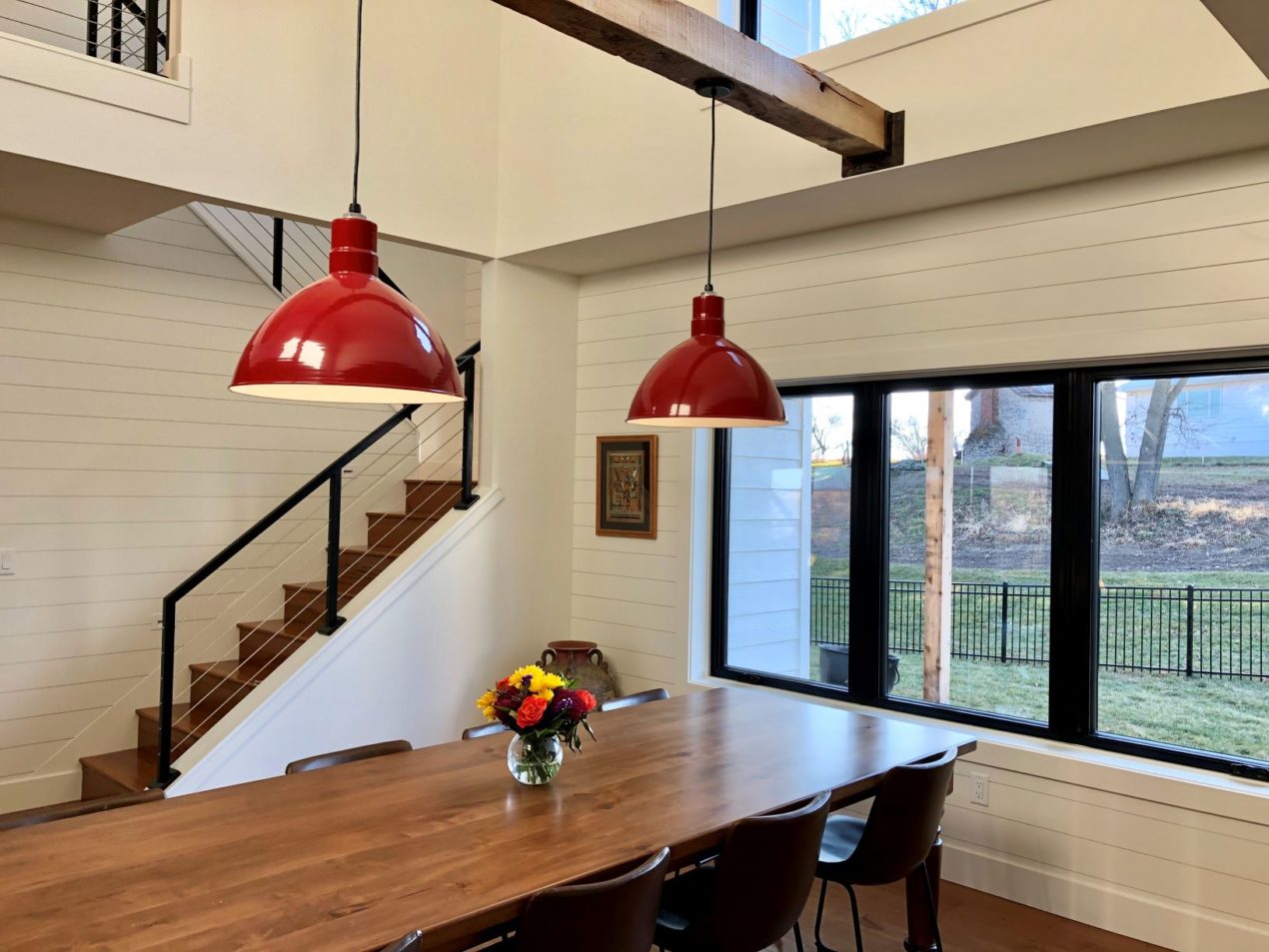 Barn Pendants & Wall Sconces Add Farmhouse Charm to New Build
Inspiration for home décor comes from a limitless number of sources. A paint chip, Instagram, a beloved piece of furniture, or an idea house you want to mimic. For Molly, the inspiration for the lighting in her new home was right outside her window.
"We live on a farm in Iowa with children and two dogs, and I wanted a few fixtures that reminded me of old farmhouses, barns, and schoolhouses," Molly says. "The dining room has a view of our barn and I felt that would be a fun way to tie into that."
Molly created a neutral palette of easy-to-clean materials throughout her new home. She then added color to stand out against the white, wood, and black tones she chose as the base. She wanted her home to be comfortable and functional but still look like it could grace the pages of a magazine.
"For the dining room lighting, color was most important," she notes. "I knew I wanted something other than a clear or frosted glass fixture. American made was next on my list. If I could find a brand that was made in America, that would be an added bonus."
Molly's online search for "colorful barn lights" led her directly to Barn Light Electric where she fell in love with the Wilcox Deep Bowl Pendant Light. She customized these handspun barn lights with 20″ shades, a Barn Red finish, and black cords.
"Our table was custom made and the beam above was salvaged from a building on our property," she explains. "I wanted a simple light fixture that would direct light onto the table and catch your attention, but not draw all the focus away from other elements."
Molly opted for the generous-sized shades as the table measures nine feet long by 42″ wide. The Barn Red finish reminds her of old barns and complements her red Turkish runner and red Wolf range knobs.
In the nearby guest bathroom, Molly faced the problem of a small space with no windows. While they added a sun tunnel for extra light, she wanted to include a bright color with the lighting. Molly chose the Bantam Chestnut Wall Sconce with a happy Buttery Yellow finish on the 8″ shades.
"I like the shade style and slender arm of this sconce," she notes. "The Buttery Yellow reminds me of sunshine. I kept the cabinetry and everything else simple so I could add this unique light that really pops." Molly's lights, handcrafted from commercial-grade materials, were easy to customize to perfectly suit her new home.
"I love everything about these lights! I love how they add so much to the rooms," she says. "I also like that they are unique to our area. The electricians had never installed anything like them!"
Photos courtesy of the homeowner