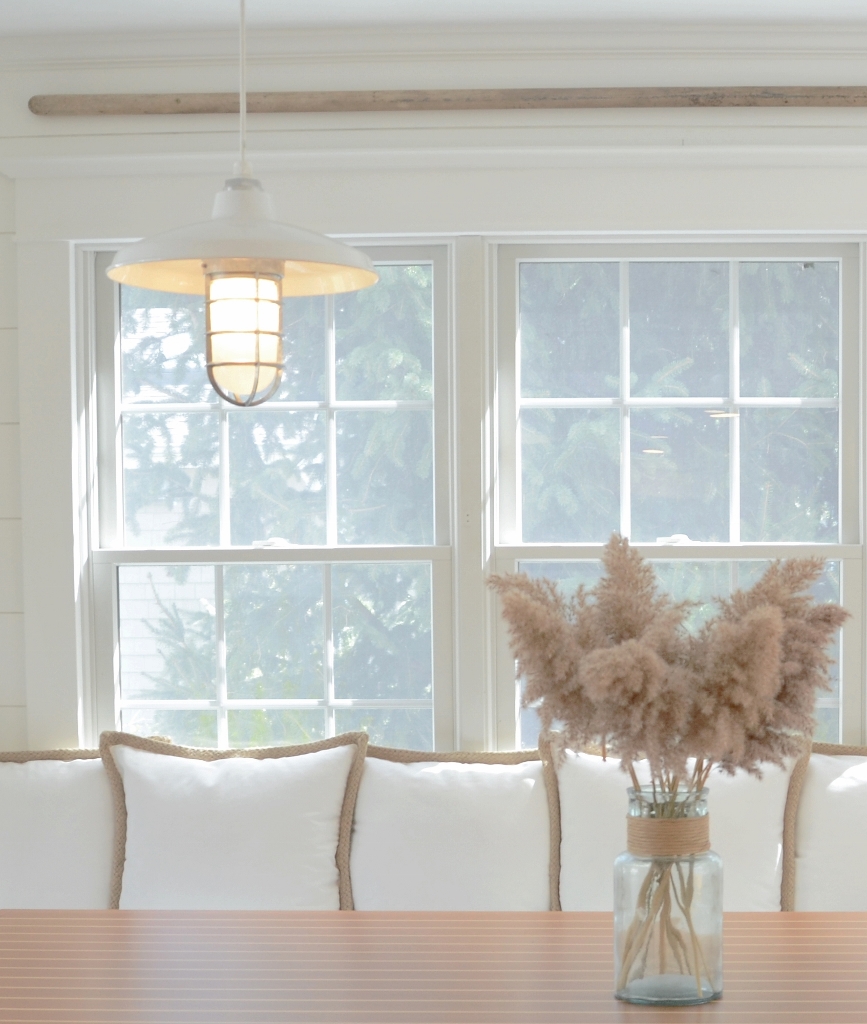 Barn Pendants Provide Splash of Nautical Flair
When you've spent your entire life living by the ocean, it's natural to embrace all things nautical. Designer Elizabeth Norton, of Between Wind and Water Design, lives in a small seaside town in Rhode Island where she has created a bright, airy home that reflects the casual vibe of the beach.
She and her husband Dave recently tackled some renovations on their coastal cottage including a new eat-in dining nook and an overhaul of their exterior landscape.
"We have both lived by the ocean our entire lives and it's definitely reflected in our design aesthetic," Elizabeth says. "For our dining nook, we had a design direction of simple, clean, and subtly nautical." Starting with shiplap, a custom teak-and-holly table, and a pop of color from bench cushions, Elizabeth wanted to add high-quality lighting suitably proportioned to the table.
She chose Barn Light Electric so she could customize her lighting exactly as she wanted. Two Marathon Pendant Lights, with 14″ shades and White finish, bring plenty of nautical style to the table. Elizabeth also chose White cloth cord, a galvanized guard, and frosted glass for her new pendants.
"It's a great combination of nautical and industrial with a little bit of a vintage flair," she explains. "The proportions are perfect. I chose the galvanized guard because I wanted to pull in the chrome hardware from the kitchen and the frosted glass because I wanted muted light in the space."
In a nearby bathroom, Elizabeth chose the Austin Wall Sconce for another hint of industrial style. The Black finish on the compact 10″ shade complements the rope-wrapped mirror.
For her front porch, Elizabeth fell in love with the Industrial Guard Pendant. She customized this pendant with an Oil Rubbed Bronze finish, heavy-duty cast guard, and clear glass.
"I was drawn to this pendant because it suited the space well," Elizabeth notes. "I chose the finish to match my front door hardware and anchor door knocker. The heavy duty guard is solid and the clear glass offers good strong light at the front door."
Elizabeth found Barn Light several years ago during one of her searches online for quality lighting. She sources lighting not only for her own home but for homes she helps design.
"I get compliments on the lighting throughout my home all the time," she says. "Since each light is customized, they make the space look thoughtful and well designed. I really couldn't be happier with my choices!"
Photos courtesy of Between Wind and Water Design