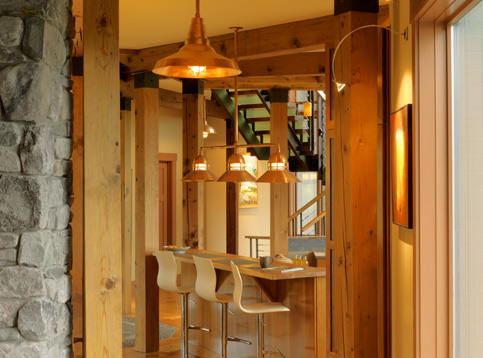 Barn Pendants and Chandelier for Shaker Style VT Home
The Shaker style is admired by many for its simplicity, quality, and functionality. First introduced into this country in the late 1700s, Shaker designs have inspired many modern designers with its traditional, understated detailing. This home in Vermont takes its architectural cues from polyform Shaker barns. The center structure of the home is composed of 12 posts in a ring which give a rustic, rugged feel to the space. The kitchen, shown here, is full of custom cabinets and light fixtures that also reflect a simpler time and style.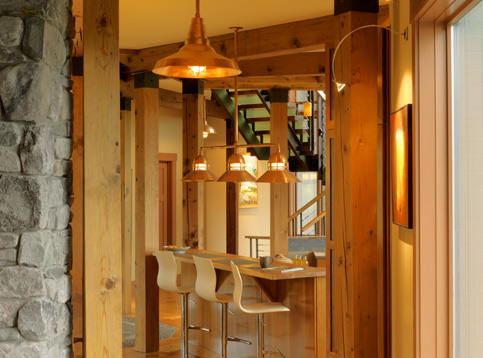 The stunning pendant is very similar to our 27″ Barn Light Warehouse Pendant. This larger size features the stacked neck design which helps focus the light downward toward the floor. These American made, RLM shades recreate the simple lines of those first manufactured for use in warehouses and on farms. When finished in a polished copper like this fixture, the light becomes a functional work of art. We offer other copper finishes including brushed, weathered, metallic, and satin. If you prefer a different look for your shade, there are more than 50 other finishes to choose from, each one able to give your light a distinct personality.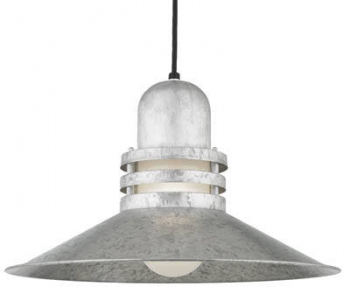 Over the bar is another beautiful copper fixture, this one closely resembling our Barn Light Holophane Pendant. By having three shades on one chandelier, each place at the bar is equally illuminated with no one left in the shadows. This pendant comes in nine shade sizes, from a petite 8″ to a 24″ wide version. Your finish options range from classic copper, black, or galvanized to more modern shades of trans red, blue, or cruiser green. The Holophane Pendant can also be customized with a cast guard and glass. Mounting options for the Holophane include cord, stem, or flush mounting or combine two or three lights to create your own custom chandelier!
Top photo courtesy of Susan Teare Photography and Cushman Design Group