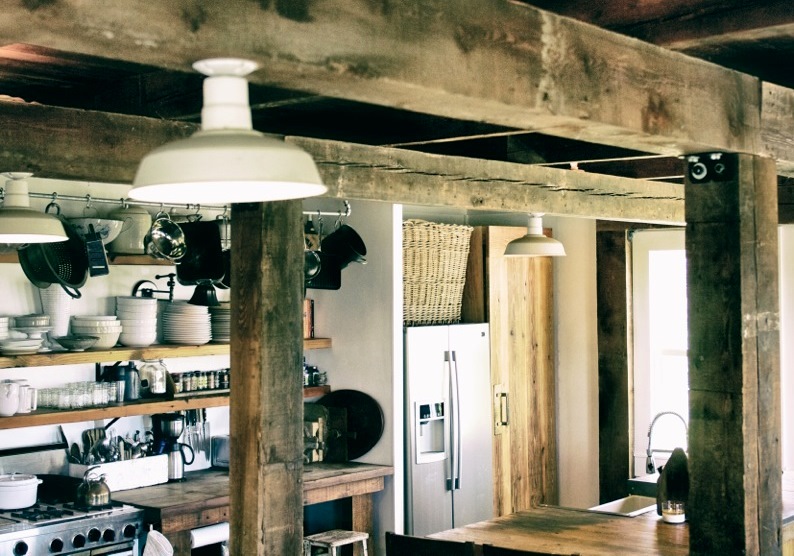 Barn Lights Stand the Test of Time for Early BLE Customer
Back in the early days of Barn Light Electric, owners Bryan and Donna Scott did it all. Like most small business owners, the couple created their web site design, developed new products, packed boxes for shipping, and even answered the phone as they enjoyed a hands-on approach to their growing business.
The couple recently heard from one of their very first customers who purchased barn lights more than six years ago for her early 1900's farmhouse located in Sebastopol, California.
"I purchased many lights at Barn Light Electric," Michelle says. "I remember chatting on the phone with the owner." Michelle is an event photographer and founder/creative director of Archival Decor. The lovely farmhouse that she shares with her husband Bill Albright and their two children was recently featured on Houzz. A builder by trade, Bill handled the extensive renovations the couple envisioned for their home.
In the kitchen, Bill removed walls to open the space and used reclaimed wood for the support beams, ceiling, and floor. A minimalist at heart, Michelle loves the open look. To illuminate the space, Michelle chose our Original™ Warehouse Flush Mount Pendant Light which provides plenty of lighting with a mounting that hugs the exposed beams.
"I was looking for sturdy, well made lights that did not look flimsy," Michelle explains.  "I wanted a light with some visual weight."
In the hallway, which has higher ceilings, Michelle stayed with the Original™ Warehouse Shade but chose a longer stem. She also customized this ceiling pendant with a cast guard and glass which adds a vintage touch to her industrial farmhouse look.
Outside, the family enjoys a pastoral setting which includes this stately walnut tree. In the background, a deep bowl barn light provides light over the doors and deck. Although we don't sell this particular fixture any longer, you can get a similar look with the Wilcox Deep Bowl Gooseneck Light, an American made wall light that is hand spun by our own craftsmen.
"I'm still very happy with my lights. They have definitely held up," Michelle says. "I still love all my BLE products!"
Photos courtesy of Michelle Pattee