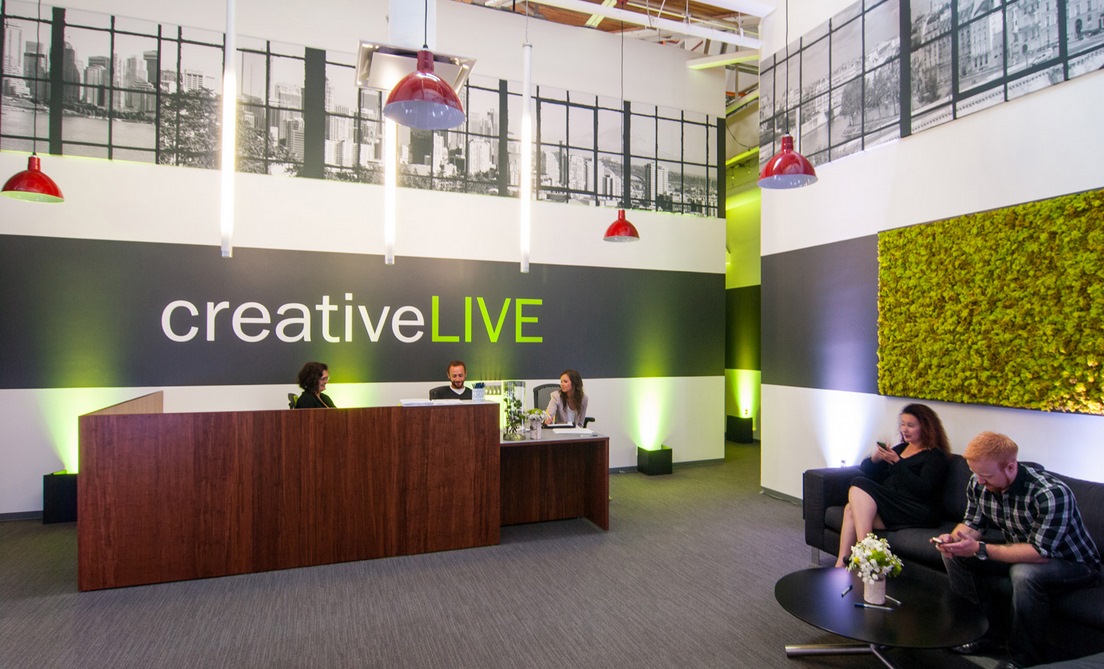 Barn Light Pendants for Industrial Renovation
Some people look at an old building and see nothing but a future demolition site. Architects often see much more.
When Andrew Van Leeuwen, partner and lead architect with BUILD in Seattle, Washington, first spied the future home of Creative LIVE in San Francisco, he could tell the building had undergone a series of unfortunate remodels. But the building's original "grit and texture" survived, and the BUILD team worked painstakingly to revive the historical charm of this 1920s-era industrial brick building.
Creative LIVE is a live-broadcast, online classroom breaking the mold of traditional learning with photographers, musicians, artists, and other creatives from around the world offering their expertise to an audience of aspiring professionals.
Headquartered in Seattle, their new home in San Francisco includes 10,000 square feet of space including studios, classrooms, and workstations such as these on the main floor.
Though plenty of natural light streams through the towering windows, the design team specified the Barn Light Warehouse Cord Hung Pendant* to bring downward focused light to the floor and work spaces.
The red shades with matching red wire guards help manage the scale of the soaring space and add a splash of color too. This classic RLM-style warehouse pendant light can handle up to a 200 watt bulb so it brings plenty of light to the work surfaces below and is an excellent choice for commercial applications.
In the lobby, the design team, which included Centric General Contractors, opted for the deep bowl shade of the Wilcox Deep Bowl Pendant Light. Based on original 1940s designs, the Wesco combines classic lines with modern detailing and options including five shade sizes and 15 brilliant powder coat finish colors.
These barn pendant lights were customized with a 16″ shade, Barn Red finish, and standard black cording. The deep bowl styling and pop of red color in this neutral space makes a grand first impression on visitors.
Andrew notes that the clean, timeless look of the renovated space was the result of a team effort.
"Centric General Contractors knocked the ball out of the park on this project," he says.
*This pendant is no longer available. For a similar look, see the Farm & Barn Cord Hung Pendant
Photos courtesy of BUILD