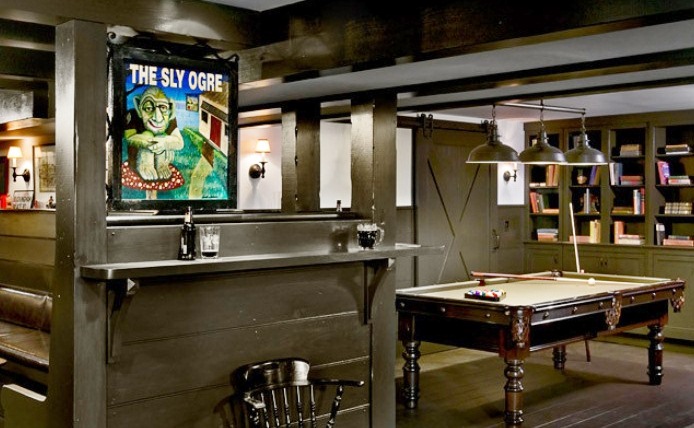 Barn Light Chandelier for a London Style Basement Pub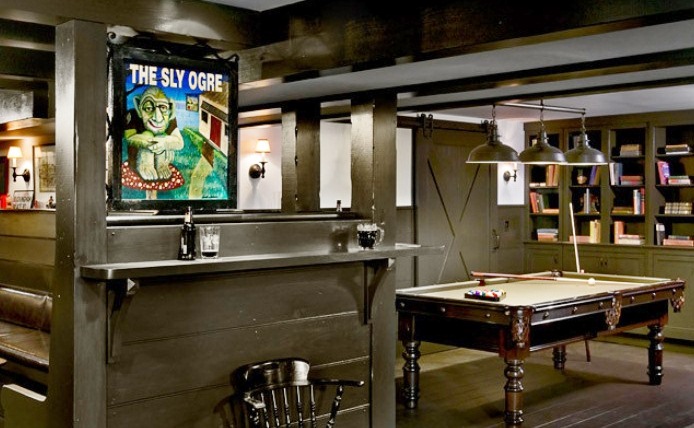 When this homeowner approached the New York firm of Crisp Architects about fulfilling his dream of a London style pub in his basement, he knew exactly what he wanted right down to the tiniest detail. From the full bar highlighted by brass railings and a stained glass window to a high-backed booth and plenty of tables and chairs for pints and poker, this cozy pub transports the homeowner and his guests to another place. A small fireplace, low ceilings, and dark tones add to the cozy and casual atmosphere as does the barn chandelier casting light onto the pool table.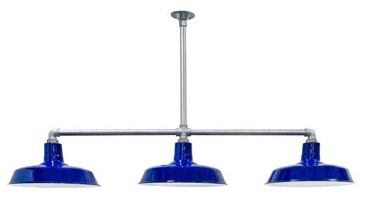 This fixture looks much like our Benjamin® Fortified 3-Light Porcelain Stem Mount Pendant which features three RLM-inspired warehouse shades on a rugged stem. The 16″ shades will provide plenty of lighting for every trick shot and the porcelain enamel finish on the shades will last a lifetime with no fading or corroding. These American made lights are created by our own craftsmen from commercial grade steel. The shades in this photo look to be Bronze, but a rainbow of finish colors is available to you. You can further customize this chandelier with a variety of stem and arm lengths or by adding a cast guard and glass. This rugged, industrial chandelier features our Sky Chief shade and is suitable for indoors or out. If you prefer a different shade style, be sure to call our helpful customer service reps who can talk to you about customizing this chandelier with your choice of warehouse shade design.
If you need a smaller fixture, check out the Benjamin® Speedway 2-Light Porcelain Shallow Bowl Pendant which features the same durable porelain finish with two shallow bowl shades. Consider this fixture for any workshop, man cave, game room, or porch that needs a wide span of light in a heavy duty mounting that will last for years.
Top photo courtesy of Crisp Architects and Photographer Rob Karosis