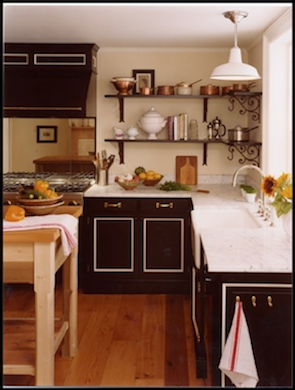 American Vintage Lighting Complements Italianate Villa
Classic Italian décor is likely to come with a welcoming, provincial feel. That's expected, considering the warmth and family oriented nature normally associated with the Italian culture. Family heirlooms are proudly displayed and passed down from generation to generation, alongside authentic photos and secret recipes. By looking at the above photos, wouldn't you assume that this home was definitely part of the Italian countryside? After all, look at the size of that stove – we can envision pots and pans full of enough pasta to feed an army!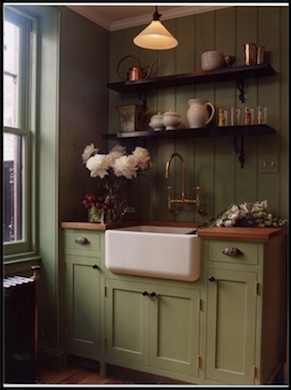 While the kitchen has the appearance of a Tuscan villa, you'll notice a true American feature almost immediately. Over the large farmhouse sink is a stem mount light fixture, reminiscent of some of our vintage barn lights. The white Vintage Vented Warehouse Stem Mount Shade is almost identical to the sink light seen above on the left. Manufactured by the Wheeler™ Lighting Company, vintage lights have their own unique characteristics that contribute to the rustic nostalgia of any countryside cottage. On the same note, the authenticity of this pendant can complement an industrialized factory loft apartment too.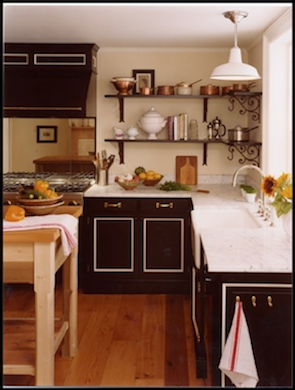 Sometimes though, a delicate atmosphere requires an equally delicate pendant light. Milk and Clambroth glass pendants are the ideal farmhouse lights due to their timeless and understated appearace. The 7" Vintage Clambroth Pendant can be paired with your choice of a polished nickel or brass socket to coordinate with other vintage hardware in your home. A single cord hung pendant is best for small areas, such as a half bath or laundry room, whereas groups of two or more can be used for kitchen islands or above dining room tables.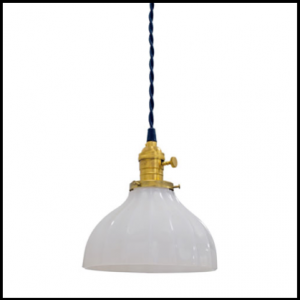 If you can't find a vintage pendant or gooseneck barn light to your liking, keep checking back. We are constantly scouring vintage lights to restore and offer online!
Top Photos Courtesy of Fairfax and Sammons