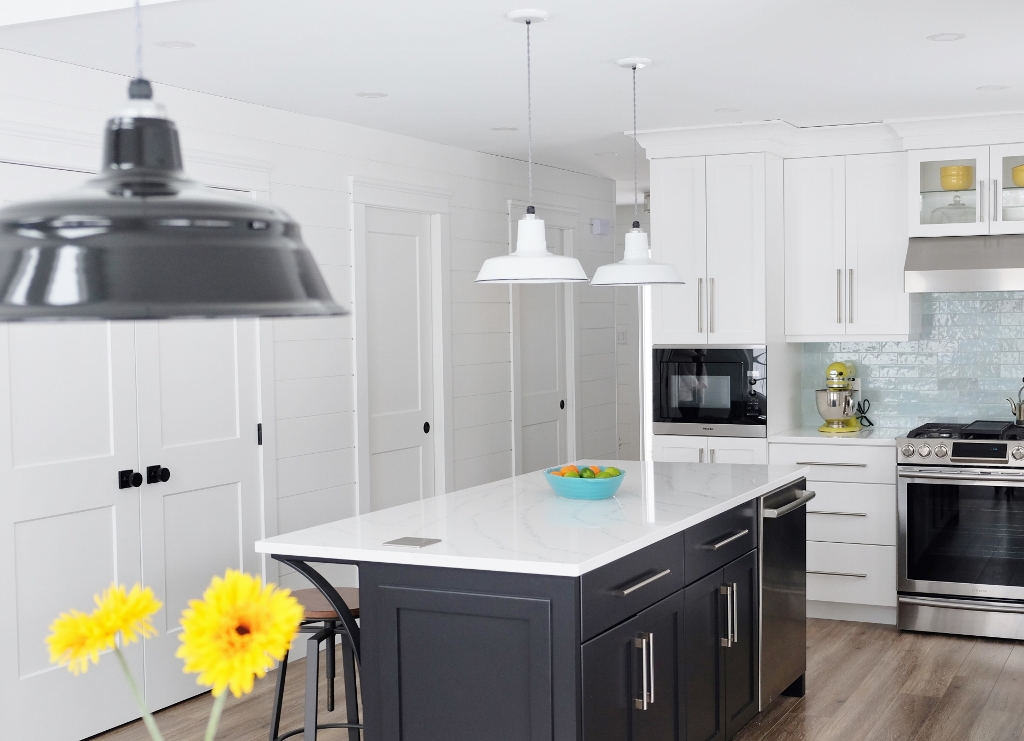 American-Made Lighting Worth Every Penny to This Canadian Customer
Customers often ask questions about our handcrafted lighting via our social media accounts. Last spring, Carol reached out via Facebook messenger to ask if she could order pendants with extra cord to accommodate her cathedral ceilings. The answer is yes! Extra length of cord is just one of dozens of ways you can customize your lighting with Barn Light Electric.
Carol is no stranger to the company as she purchased our American-made lighting for years in her work as an interior designer. She and her husband Darrell recently built a home for themselves in a tiny ocean-side community in New Brunswick, Canada.
"We designed a compact home at just 990 square feet, plus a one-car garage," Carol says. "We wanted to minimize the footprint to respect this beautiful place we're fortunate to call home!" For the interior, Carol wanted a clean, simple, and timeless look that would emphasize the ocean views. When it came to lighting, she went straight to our Porcelain Enamel collection.
"The Original™ Warehouse Pendants are perfect for our kitchen island," Carol notes. "For an uncluttered look, we chose to go with two 14″ shades in White over our seven-foot island. The black-and-white chevron twist cord is a great little extra!" For the dining area, Carol chose the Bomber Pendant Light and customized it with a 17″ shade and porcelain Black finish.
"The cathedral ceiling required us to have a cord more than eight feet in length," she explains. "We wanted something similar to the kitchen island lights but wanted a light that was more substantial to act as a focal point. Thanks to your customer service, we got exactly what we needed."
In the nearby living space, Carol wanted to highlight a very special piece of art that her daughter, Megan, created when she was just 10 years old. Two Esso Wall Sconces, with 10″ shades and White finish, provide the perfect accent to the colorful artwork.
Outside, Carol stayed with the White finish for her exterior lighting to contrast against the charcoal siding of the home.
"We fell in LOVE with the Original™ Warehouse Gooseneck Lights for each side of our black garage door," Carol notes. "We chose the 12" shade and G26 gooseneck arms since space was limited." To coordinate, she selected two Original™ Stem Mount Pendants, also with 12″ shades, for the small front porch.
"Since we live in Canada, lights from Barn Light are an investment and we really appreciated the 20 percent discount days," Carol says. "But fixtures from Barn Light Electric are worth every single penny! We really loved that we could customize each fixture to what we wanted. Thank you for making such beautiful fixtures right here in North America!"
Photos courtesy of the homeowner