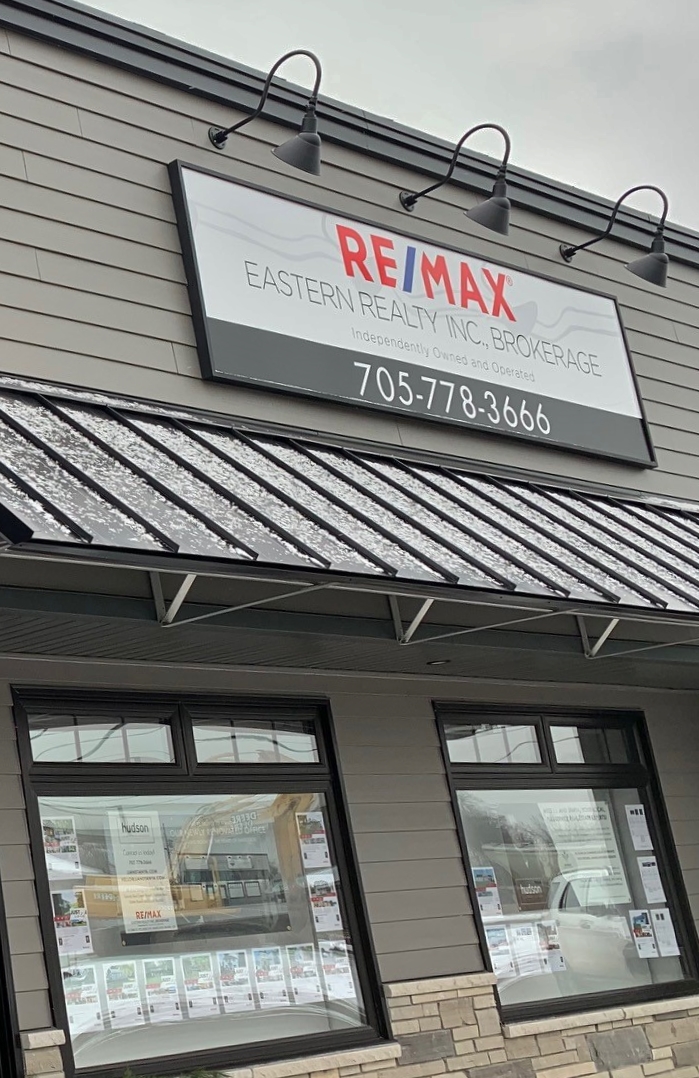 American-Made Lighting Offers Industrial Aesthetic To Commercial Space
The tiny town of Havelock, in eastern Ontario, Canada, may be nothing more than a blip on the map between Toronto and Ottowa to many. But to Tanya and J.J. Hudson, Havelock is home. This charming little spot is where these siblings grew up and where they choose to live and work as a dynamic real estate team with RE/MAX.
They recently worked with a local builder to convert an old building in town into a three-unit commercial space. The full-gut remodel even included new trusses to change the pitch of the roof. The building now houses their real estate office, the showroom for a custom millwork company, and the local community food bank. Here's the before photo…
"We wanted to have a rustic industrial aesthetic that still fit into our small-town streetscape," Tanya says. With the help of Prinston Homes, she and J.J. chose American-made lighting from Barn Light Electric to achieve the look they envisioned. And here's the transformed exterior…
"We wanted clean lines and old-world charm for our lighting," she adds. "We wanted something that would stand the test of time both on an aesthetic level as well as functionality." Tanya chose the Frontier Angle Shade to illuminate their new signage. She customized these hand-spun sign lights with 10″ shades, a Textured Black finish, and G5 gooseneck arms.
"The Textured Black complements the exterior and the hardware of our building," Tanya notes. "I like that the G5 arm directs the light downward but doesn't obstruct the signage too much."
Tanya, who has a degree in interior design, also chose two Dino Wall Sconces to flank the exterior doorway to the millwork company. These barn wall sconces are customized with 12″ shades and the same Textured Black finish as the angle shade lights.
"I wanted them to be a good scale beside the exterior doors which are a custom height," Tanya explains. "I think they complement the Frontier Angle Shades well."
Inside the real estate office, the bathrooms were outfitted with white plumbing fixtures, stainless faucets, and a splash of Industrial Grey on the Avalon Wall Sconce above the mirror. The clean lines and industrial feel of the Ashland attracted Tanya to this handcrafted wall sconce. She chose the 14″ shade to make a statement in the space.
"Our lights are timeless! And they're industrial-looking without being too cold," Tanya says. "We couldn't be happier with our Barn Light Electric purchases!"
Photos courtesy of RE/MAX Eastern Realty, Inc.