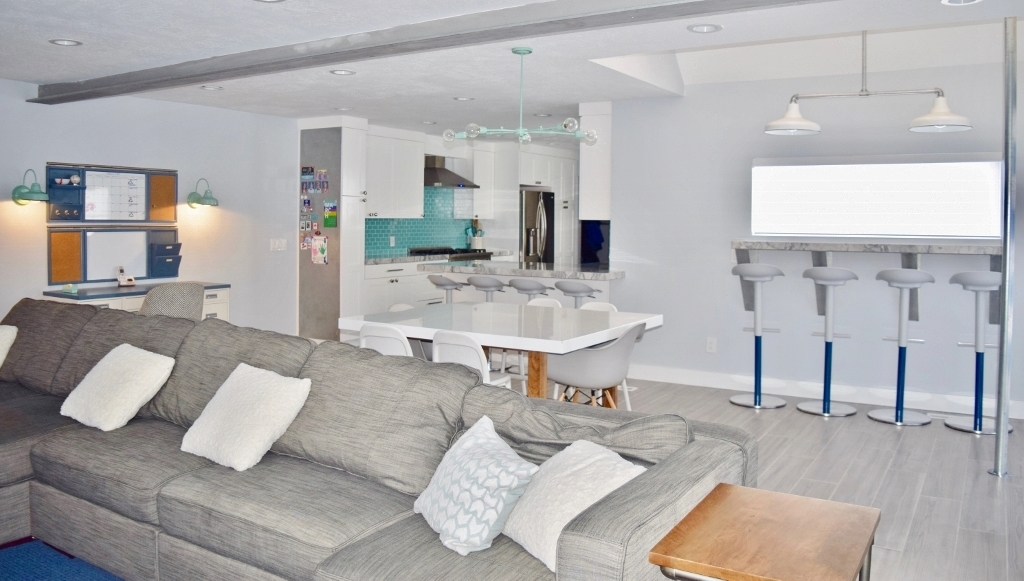 American-Made Lights, Excellent Service Keep Customer Coming Back
When two buyers got into a bidding war for Maggie's Utah home, both insisted that the light fixtures from Barn Light Electric convey with the sale.
"Both parties put into the contract that we had to leave the lights," Maggie recalls. "Sad day for me, but I knew I'd be back!" 
Maggie and her family moved to a small farm town near Park City, Utah, and began a major renovation on a home built in 1994. Walls came down, galvanized beams went up, new windows added more light, and all new electrical and plumbing were added. New rooms include a pantry, mud room, and laundry room — much needed for a family with four kids, two dogs, two horses, and 30 chickens!
Maggie made good on her promise to return to Barn Light for the fixtures she loved. She describes her style as a mix of modern/contemporary with a tiny bit of traditional thrown in. She loves blues, grays, and galvanized metal. In the combined kitchen/dining area, there is plenty of room to eat, do homework, and gather as a family.
"The kitchen has an amazing flow," Maggie notes. "We have lots of seating and it's definitely our place to hang out all together. It's also a fun play area with our fire pole that comes from the playroom."
Over the breakfast bar, which doubles as a serving table when they entertain, a Union 2-Light Stem Mount Pendant offers generous light. The two warehouse shades are customized with a White porcelain finish and a galvanized mounting.
"The lights over the bar are incredibly beautiful. A double pendant fit so nicely and proportionate with the high bar and wide window," Maggie says. "The galvanized mount even complements the fire pole." In the nearby kitchen, another handcrafted barn pendant highlights the sink.
This Original™ Stem Mount Pendant is customized with a 12″ shade, White finish, and an 18″ Galvanized stem. The powder coat finish on the pendant complements the gray flooring along with the white cabinets. Maggie's counter tops are a mix of gray, white, and blue.
Over the dining table, an Ellis Adjustable Arm Chandelier brings a touch of whimsy to the space with its five bare bulb sockets and arms that adjust horizontally. Maggie customized this multi-light chandelier with our Jadite finish which ties in beautifully with the kitchen's backsplash.
"Jadite is, hands down, my favorite color for a light," she says. "I love that it's adjustable. You can have a conservative look by having the arms straight out, or you can go for a little bit of a funky modern look by adjusting the angle. Totally love it!"
A nearby desk also sees plenty of use and is flanked by two Esso Wall Sconces. Maggie customized these handspun porcelain sconces with 8″ shades and her favorite Jadite finish.
"I love the sconces on each side of my desk," she notes. "The walls are a gray/blue, the tile is gray, and my desktop flows with the carpet. The wall sconces bring everything together."
We will continue our tour of Maggie's home in the coming weeks as she added more wall sconces and a chandelier in other rooms plus post mount lights to the exterior of her home.
"I feel like Barn Light Electric has the best customer service I've ever experienced with a company," Maggie says. "I love how all of my amazing lights give my home even more of a custom feel. It's all about the details, and these lights are subtle, yet they make a great statement!"
Photos courtesy of the homeowner @blueneonfish