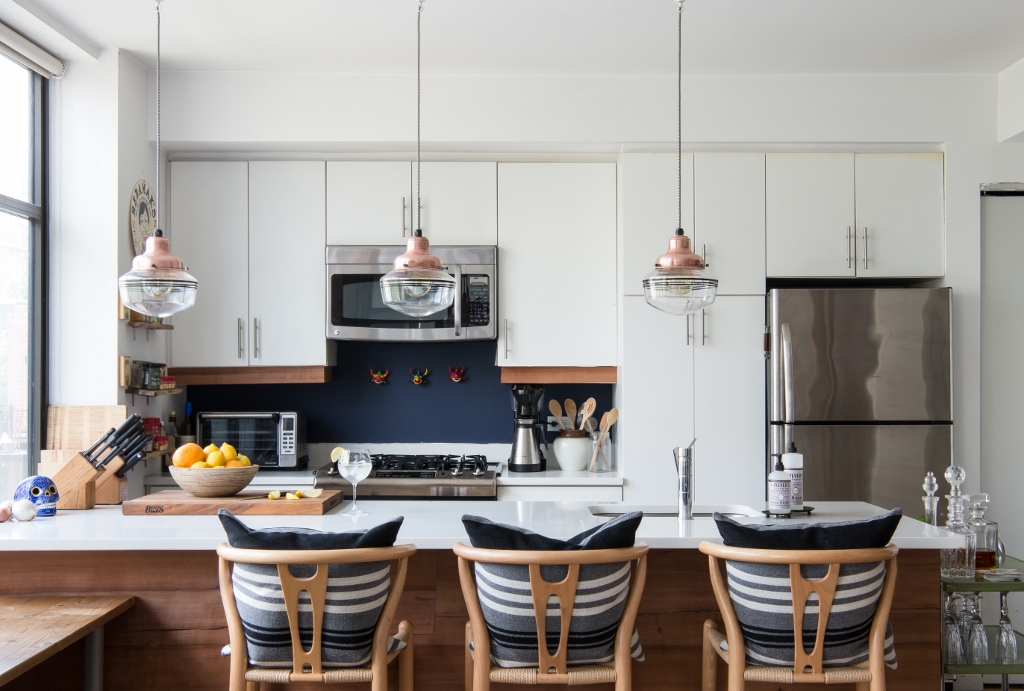 All You Need to Know | Lighting for Modern Kitchens
Elements of a modern kitchen appeal to many. Stark white tile, frameless cabinets, sleek hardware, and industrial touches all help create an open and clean space. Many homeowners combine these elements with other pieces to create unique styles such as mountain-modern, rustic-modern, even vintage-modern which marries both old and new.
Today, we're looking at some of our favorite modern kitchens and the different styles of lighting chosen by customers to create the perfect look in one of the most-used rooms of the home.
One of our favorite modern kitchens is actually in a home that's more than a century old. During renovations, although the homeowner updated the kitchen to give it a modern feel, he wanted to incorporate some traditional elements too.
"I chose the Original™ Warehouse Pendant because it has a traditional history and is a style that will remain classic," Zachary says. "It has a more casual feel which seems suitable to the style of my home, and serves as a nice juxtaposition against the more modern elements of the kitchen."
When Stephanie and her husband built their new home in Canada, she spent more time deliberating the lighting than anything else in the kitchen.
"Lighting is such an important element and I really wanted to make sure I got it right," she explains. Stephanie chose the modern look of the Wilcox Stem Mount Pendant and customized these deep-bowl pendants with 12″ shades, Black finish, and 18″ stems. The black-and-white palette in the kitchen allows the natural beauty of her wood floors and butcher block counter to shine.
Schoolhouse lighting dates back to the 1930s and 40s and offers a vintage touch in this modern space. The homeowner chose the Primary Schoolhouse Pendant Light because the pendants offer a timeless look for the older home but were also suitable for this voluminous modern kitchen. The opaque shade attracts attention as a design element and is one of six ways this light can be customized.
In her New York apartment, Shelly also selected the Primary Schoolhouse Pendant as she searched for lights that were fun but with an elevated look. Shelly customized these ceiling lights with small globes, a Raw Copper finish, triple painted black stripes, and a black-and-white cotton twist cord. While these fixtures give a nod to the past, they also exhibit a modern flair with the touch of copper and cloth cording.
Industrial touches are also a hallmark of modern kitchen design, and this 2-light chandelier was just what Apryle needed in her space.
"Our Insider 2-Light Chandelier fits the space just right — it's not too big or too small," she notes. "I love everything about the light from the color to the quality to the Edison style light bulbs. I wanted it to be a focal piece to add color since the rest of the kitchen is so neutral."
Lori used a mix of styles in the down-to-the-studs remodel of her kitchen. By combining reclaimed barn boards for the peninsula, clean, shaker-style cabinets, and a sleek waterfall counter top, Lori achieved the eclectic look she sought. She chose the Esso Pendant Light to highlight her new peninsula and provide needed task lighting. The classic barn style pendants offer a vintage hint while the Textured Black finish on the 8″ shade and Black Cotton Twist cords lend a modern feel.