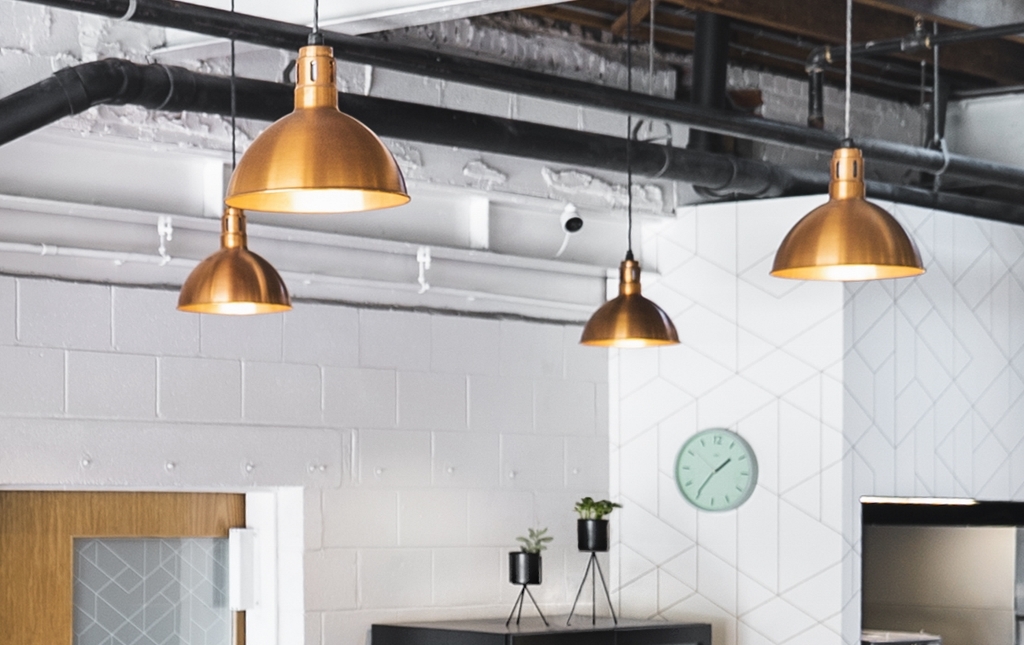 Copper Pendants Offer Flexible Style in Multi-Use Space
Designing business interiors requires a thoughtful eye to both function and brand aesthetics. But when a building hosts one business by day and another by night, flexibility becomes key.
Christie Thompson is a lead strategist for Campfire & Co., a Richmond, Virginia, branding agency that creates websites, graphic identities, marketing plans, and interior environments. The team recently tackled the renovation of a restaurant into a multi-functional and multi-use office space.
"By day, it operates as a meeting space and lunch room for the digital agency Grow," Christie says. "In the evenings, the space is transformed into a pop-up venue for creative events for chefs, artists, and entrepreneurs to share their passions with the community."
Grow uses the space for meetings and daily lunches for their staff, but at night and on weekends, Grow's pop-up venue, called ENJOY: is used as a commercial kitchen, a movie screening venue, a workshop location, and more.
"The design needed to complement the Grow aesthetic, but we also wanted ENJOY: to have a personality of its own that the community would feel connected to," Christie explains. "We expanded and refined Grow's palette to use materials and textures that are more flexible, not too bold, but still distinctive."
Because the space has an industrial feel, Christie wanted to add metallics to allow light to bounce off the finishes. She chose the Wilcox Vented Pendant Light in Raw Copper to add the dramatic touch she envisioned. She customized these hand-spun copper lights with 12″ shades and vertical slot vents.
"The vents are great to let light out and up, not just within the shade," she notes. "The size was chosen as it fit the scale of the room and the ceiling height." The industrial barn lights, combined with the rest of the modern space, create a look that is unique but still complementary of Grow's brand.
"The flexibility of the customizing options is a huge reason why we love Barn Light Electric," Christie says. "Being able to pick a specific size and cord color is great for finding pieces that feel unique to a specific brand." She adds that Barn Light is one of her company's go-to lighting sources.
"The quality is great with good price points and lots of finish options," she says. "We can customize lights and tie in brand details for clients. The fact that they're American made is definitely a bonus."
Photos courtesy of Campfire & Co.