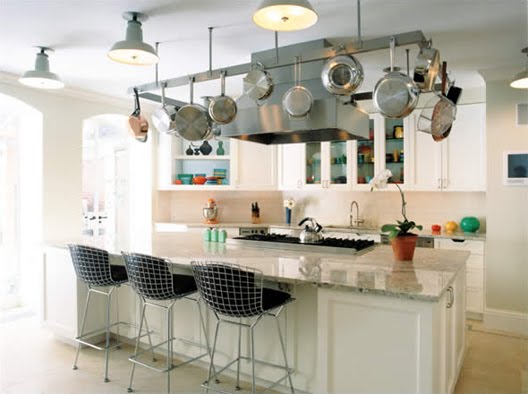 Affordable Flush Mount Barn Lighting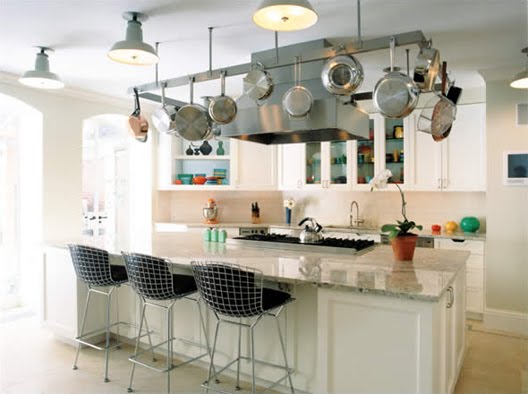 Kitchen photo courtesy of Material Girls Design Blog
The kitchen can be the most expensive room in a home to remodel. Some DIY-ers tackle theirs by painting cabinets and updating hardware. Others choose to grab a sledgehammer and start swinging. Whatever your choice may be, you might be able to get a similar look to today's Get This Look photo.

Having white cabinets and a neutral counter top are a great start. If granite isn't in your budget, opt for look-a-likes that can cost a fraction of the real stuff. Stainless steel appliances seem to still be the most popular, but take your time shopping around when making larger purchases such as these. Lowes Online sometimes offers lower prices than what you'd find in store – order online and have the items shipped to your local store so you know you're getting the best price! Better yet, research at The Home Depot, where they match competitors prices, and then take an additional 10% off!
We found reasonably priced and affordable Bertoia Wire Bar Stools from a number of online retailers – including eBay. Despite their light weight look, a number of customers agreed they were sturdy and very easy to assemble. Once you have the basics covered, let your accent pieces do the room's talking. In this case, it was the open glass door cabinets that show off the beautiful and colorful ceramic dinnerware. The teals, yellows, and burnt oranges contrast perfectly against the stainless steel and earthtoned backdrop – giving the kitchen a splash of modern Spanish charm.
The kitchen's lighting is unique enough to stand out yet blend in with the pots and pans above the island. For these, check out the Barn Light Flush Mount Warehouse Pendant in a Powder Coat Patina finish. With prices starting at $124.00, these unique lights are remarkably inexpensive no matter what quantity you need. Barn Light Electric offers additional sizes, finishes, and options too – for this particular kitchen, we recommend a 12″ shade, but the Barn Light Flush Mount Warehouse Pendant is available in up to a 27″ shade! For a look all their own, consider an optional wire cage in either a matching, or contrasting color!