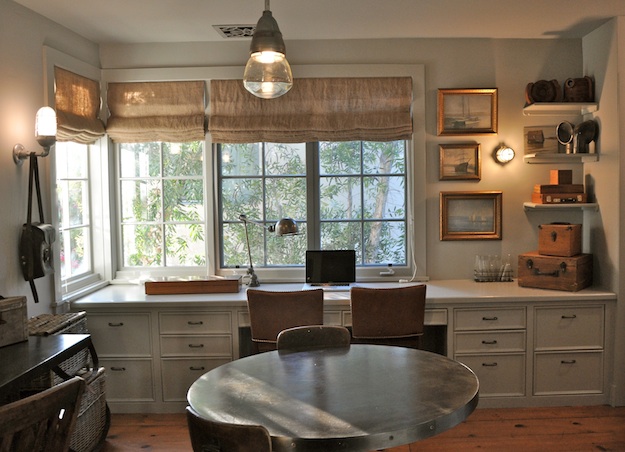 A Vintage Industrial Workspace Fit For A Family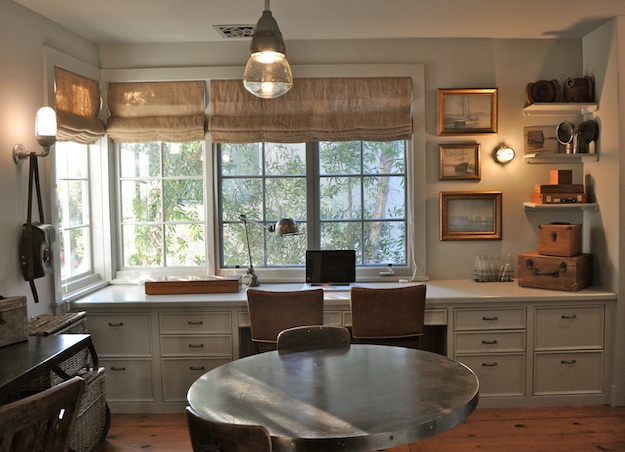 Photos courtesy of Velvet & Linen Design Blog
With school back in full swing, do your kids have an inspiring place to study and do homework? If they're lacking the can-do, back to homework spirit, consider a make over of the family office, or even a designated small work area that will help them stay focused. We found the ultimate work/play area over at Velvet & Linen, a design blog run by Brooke of Giannetti Home. If you troll around on her blog later, you'll see she has such a beautiful home! The room we found most interesting was her children's study. While the kids were away at summer camp, Brooke and her husband tackled their drab, neglected office and turned it into an industrial space, that not even kids could destroy.
I think you'll see why we're so into this space – do you see the lighting they chose? The design duo matched up several of our vintage explosion proof lights with our rustic Atomic wall sconces. Notice the photo on the right below? They even found a double use for a Atomic Wire Guard sconce! By hanging the sconce upside down, the miniature gooseneck type arm extends out, and allows for hanging totes or other items like you see below.
Atomic Wall Sconces were a perfect choice for this space. The balance of cool metals with warm leathers and wood mixes perfectly with the style they were trying to achieve. The grid like cast guard units also blend a cohesive geometric pattern in – notice the square photo collage, or large window panes on the hallway door? A galvanized finish is always an ideal finish choice if you like the industrial or modern styles. Its raw finish blends well with almost any decor, and allows you to change out paint colors and accessories without purchasing new lighting.
We can't forget to mention the large piece above the center work table either; it's one of our many authentic vintage pieces that we find and sell at Barn Light Electric. This room got one of our favorite vintage Crouse Hinds pieces. These lights were made for high impact commercial work spaces, so even the kids will have a hard time destroying this! Styles, sizes and colors vary when it comes to our stock of vintage lighting, but check back often to see what new items we have added.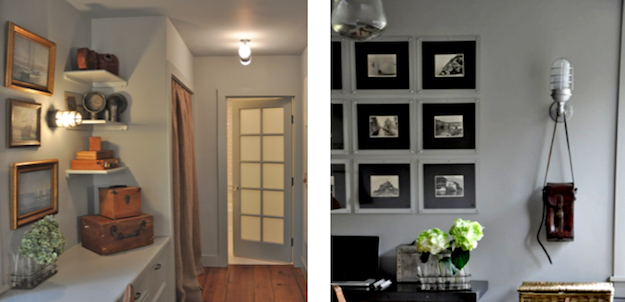 As Shown (Left): Large Barn Light Atomic Topless Wire Guard Sconce, 96-Galvanized, Frosted Glass: $169.00 each. As Shown (Right): Barn Light Wall/Ceiling Mount Double CGU Sconce, 96-Galvanized, Frosted Glass: $231.00 each.