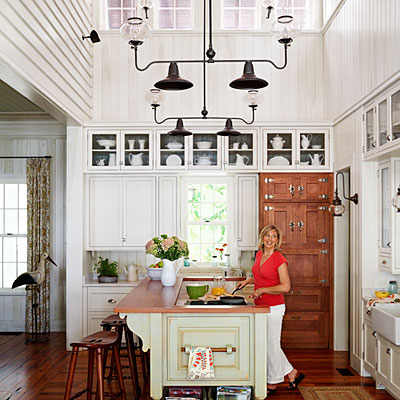 A Stylish Stem Mount Pendant Light for High Ceilings
Today, we're reaching out to those of you with high ceilings in your home. The industrial open loft is definitely in style and won't be disappearing anytime soon. After all, when is the last time you walked into a room with a low ceiling and said, "Wow, I really love this compact look!" While they are a sought after characteristic when it comes to the real estate game, they can still present some challenges to homeowners.

Trying to figure out how to decorate a tall wall is one of the biggest issues. Do you fill it with artwork? Leave it bare? Maybe paint it a bold color and hang a few family photos? Either way, one solution may be to extend your curtains above and below the window to take up some of that space – see the far left portion of today's photo.
The photo today from Southern Living played up the lofty, airy farmhouse look with white plank walls and tons of traditional cabinetry. By keeping this simple, the overhead ceiling lighting does all of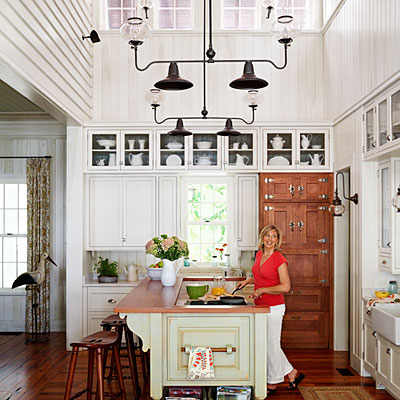 the talking. Typically with a high ceiling comes a large room, so a dual light fixture may be your best bet as opposed to separate pendant lamps.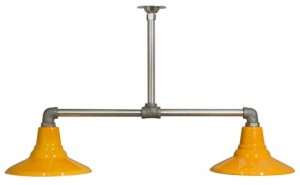 The dual Benjamin® Speedway Porcelain Light is almost identical to the lights featured in this southern style kitchen. It has the same shallow bowl shades that are likely to spread light all over the room. Acting as both a rustic and retro chandelier, the Speedway comes equipped with a hang straight canopy for slightly sloped ceilings and you can order multiple stem lengths to accommodate to nearly any ceiling height. Choose our Bronze or Black finishes to stay with a country look, or even Jadite for a Mid-Century diner feel. No matter your finish choice, the baked-on porcelain enamel finish will last for years and is extremely easy to clean – even if you do have to climb up on a latter!
Top Photo Courtesy of Southern Living