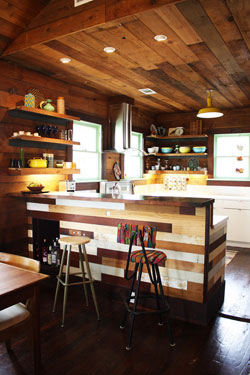 A Retro Bungalow Meets Modern Yellow Lighting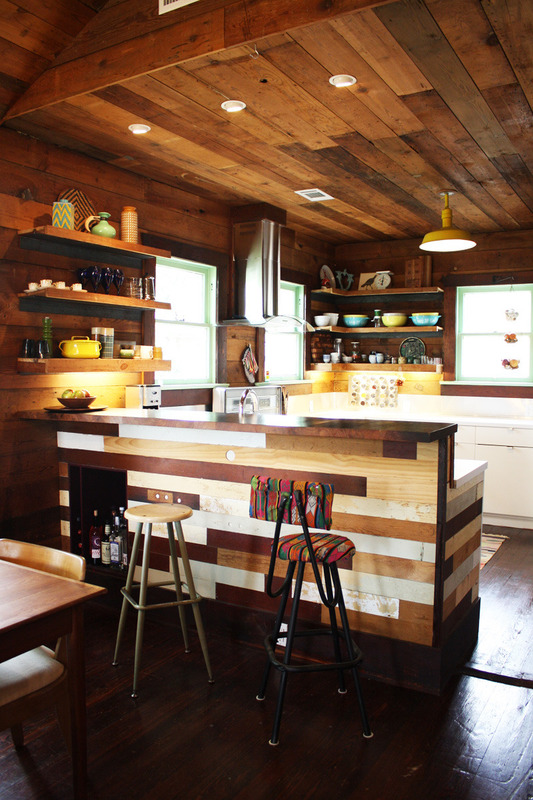 Austin is known as the cultural hub of Texas, and for good reason. From its vibrant downtown atmosphere to its local neighborhoods, the capital city of the Lone Star State boasts some of the most unique architecture and home designs in the nation.

We found an outstanding example of Austin's diverse landscape on the design blog: Apartment Therapy. In the photo to the left, you'll see an early 1900's bungalow. The bungalow's warm and natural interior was designed by artist Erin Curtis and Nicole Blair of Studio 512.
To say the homeowners were strict with their budget would be a major understatement. As a company that strives to salvage and restore as many materials as possible, we were inspired by the resourceful approach that was used to revive this urban cabin. For instance, the wood flooring in the loft was reused from a local YMCA's raquetball court!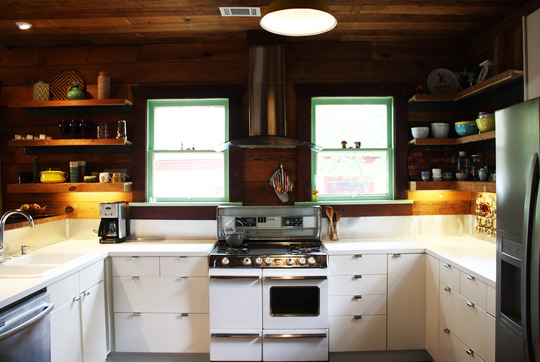 This attractive mix of warm and dark woods provide clean, visual lines that leave the room both rustic and modern – all while vintage accessories and jadite window trim throw in a bit of retro! Near the sink area, you'll see a recognizable warehouse shade hugging the ceiling. This flush mount light was selected in a modern yellow finish that ties itself into mismatched cookware displayed on the open shelving. Take out the current color pallet and the room could take on nearly any other color scheme as well: black and white, yellow and blues, or red and galvanized – luckily, the ceiling lighting shown today is available in all of those modern finishes!
"What would you get if you mixed a 1920s bungalow, the inside of a vintage boat and a lofty barn with clean lines? The unique look of an East Austin house that has completely won us over. Full of incredibly smart space and money saving ideas, we're quite impressed with the path the look of this home has taken." – Apartment Therapy
Photos Courtesy of Apartment Therapy