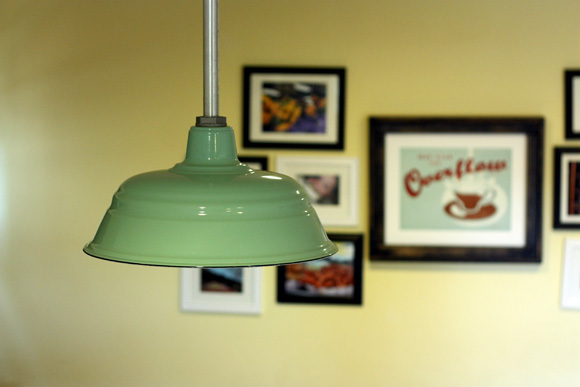 Jadite Green: A Retro Porcelain Enamel Finish
Jadite was a very popular finish choice back in the 1940's and 50's. In fact, both classic cars and vintage appliances produced in this color are oftentimes considered some of the most iconic pieces of those decades. Well, what was once old is now new again! As the demand has increased for items produced in this color, Barn Light Electric decided to add it to their color chart of porcelain finishes. We have two great examples of porcelain pendant lights – both used in two entirely different settings!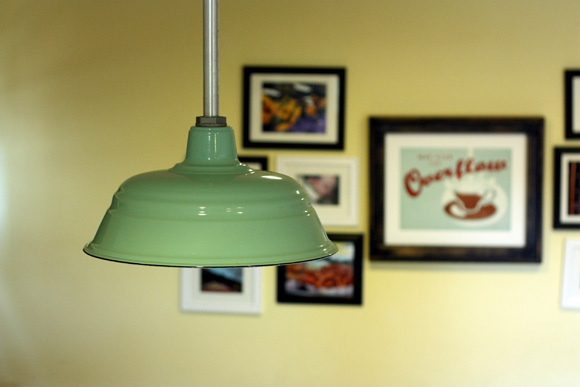 First up is the Benjamin® Bomber Stem Mount Pendant that has been featured on Life Rearranged, our customer Jeannett's personal online blog. The stem mounts were strategically placed above the counter space where not only do the children have their meals and quick snacks, but the adults gather for an evening of fun. Jeannett was originally torn between White and Jadite. Once she saw the visual impact the Jadite finish made on the rest of her kitchen, she knew she made the right choice!
"The lights bring the room 'down' a little…making it cozier and less cavernous and cold like before." – Jeannett, Life Rearranged
Life Rearranged isn't the only blog to showcase Jadite porcelain barn lights. Featured in a blog post titled "Calm and Serene Neutral Niceties (For a Boy)" on laybabylay.com, the Ivanhoe® Sinclair was displayed on a design board full of classy vintage finds – anything but your typical themed nursery decor. The chidren's decorating guide was a series devoted to inspire parents with fresh ideas to make their baby's world a more beautiful place. Although it stands as the sole colorful object in the room, the Sinclair still complements nearby items like the ivory credenza, the oeuf sparrow crib and the wide stripe jute rug.
Photos Courtesy of Life Rearranged (very top) & Lay Baby Lay (bottom image)