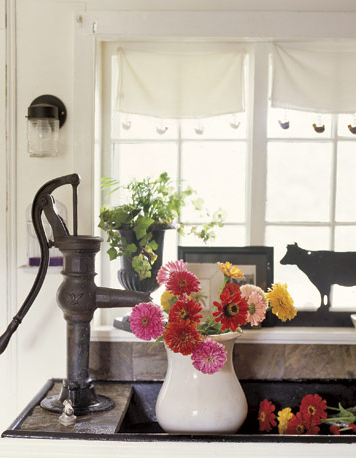 A Classic Wall Sconce Leads To Rustic Farmhouse Refinement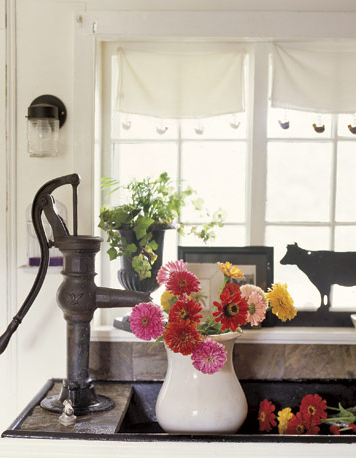 Photo courtesy of Country Living Magazine
Some light fixtures have a distinct style or era specific characteristics to them that dates them to a particular period in history; others can take on new roles, as styles and designs change over the years. One such light is the Warehouse Wall Sconce Light from Barn Light Electric. This particular fixture's classic jelly jar appearance is one that has been traditionally found in country style homes – mainly on the front porch, or near mud rooms. A recent online article by Country Living magazine, shows that with the right placement and accessories, this style of wall sconce would be an ideal addition to a country kitchen workspace.
When placed next to a traditional farmhouse sink, this wall sconce provides added indoor lighting for cooking, chopping vegetables, or just doing dishes. The faucet is actually a 100 year old hand pump, how fun is that? The two vintage country pieces go hand in hand in creating an authentic country style kitchen! With a few added touches like fresh flowers or farm animals, and your country home will be complete in no time.
Our Outdoor Farm Lights category combines vintage RLM Lighting, Atomic Lighting, Classic Residential Lighting, and Farm Lighting to insure a diverse line of products at a reduced price. Although imported, this line of warehouse shades and doorway sconces, are finely crafted and designed to not sacrifice quality for affordability. This particular Warehouse Wall Sconce is available in three finish options – Black, White, or Antique Pewter. It's clear, rolled jelly jar glass gives the globe a delicately decorative style while protecting the enclosed light bulb in its vintage inspired vapor jar. Whether placed indoors or out, the selection of Outdoor Farm Lights at Barn Light Electric will provide an affordable option to assist in giving your home an upscale country feel. The Warehouse Wall Sconce is also available in a ceiling mount option to coordinate with your space!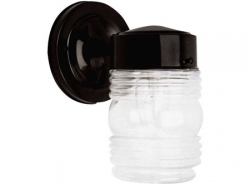 Shown Left: Warehouse Wall Sconce Light (Black) $21.95