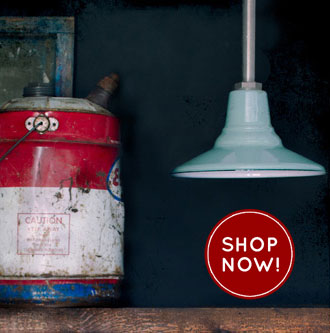 Weather Resistant Stem Mount Porcelain Warehouse Lights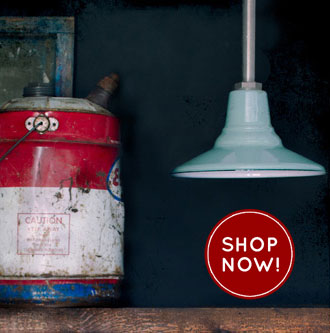 From winter's heavy snowfall to summer's hard rain, winds and occasional stormy days, weather resistant Porcelain Enamel Barn Lights like Benjamin® Stem Mount Lights, are built with extremely durable components that will endure harsh weather conditions throughout the many seasons.

These lights are produced by fusing glass onto a steel shade. These elements combine and allow porcelain enamel lighting to withstand a tough beating from mother nature. The combined strength of steel and the hardness of glass gives these pendants added strength, stability and durability for a lifetime of use. As a result, Benjamin® Stem Mount Pendants retain their value because the porcelain enamel coating doesn't fade, corrode or deteriorate over time. They are a first class choice when searching for interior, exterior or commercial lighting.
In addition to the durability found with each shade, the interior wiring is also guarded. The 6 inch galvanized metal arm that comes standard with all stem mount pendants provide a lock-tight barrier to keep all of the wiring covered and dry. To increase the light's reach, other lengths are available up to 48 inches. As opposed to some cord hung pendants, stem mount pendants are ideal for outdoor, wet locations, as the galvanized stem also allows each porcelain pendant to stay firmly in place during windy days or occasional strong storms.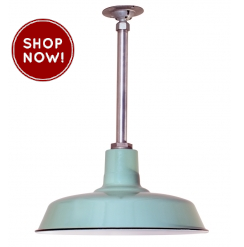 Popular porcelain stem mounts include Benjamin® Aero Porcelain Stem Mount Shallow Bowl Light and the Benjamin® Sky Chief Porcelain Stem Mount Light. The Aero's shallow bowl design features a stacked neck design and a wide, 12 inch shade. All while the Benjamin® Sky Chief boasts a 16-inch wide shade based on the original designs from the 1920′s and 1930′s.
Each of these pendants feature vintage inspired warehouse shades designs from Barn Light Electric. Porcelain enamel shades are a popular choice for outdoor lighting projects including garages, porches and sheds. To see more barn light fixtures, including gooseneck lights and cord hung pendants, visit www.barnlightelectric.com or blog.barnlightelectric.com.