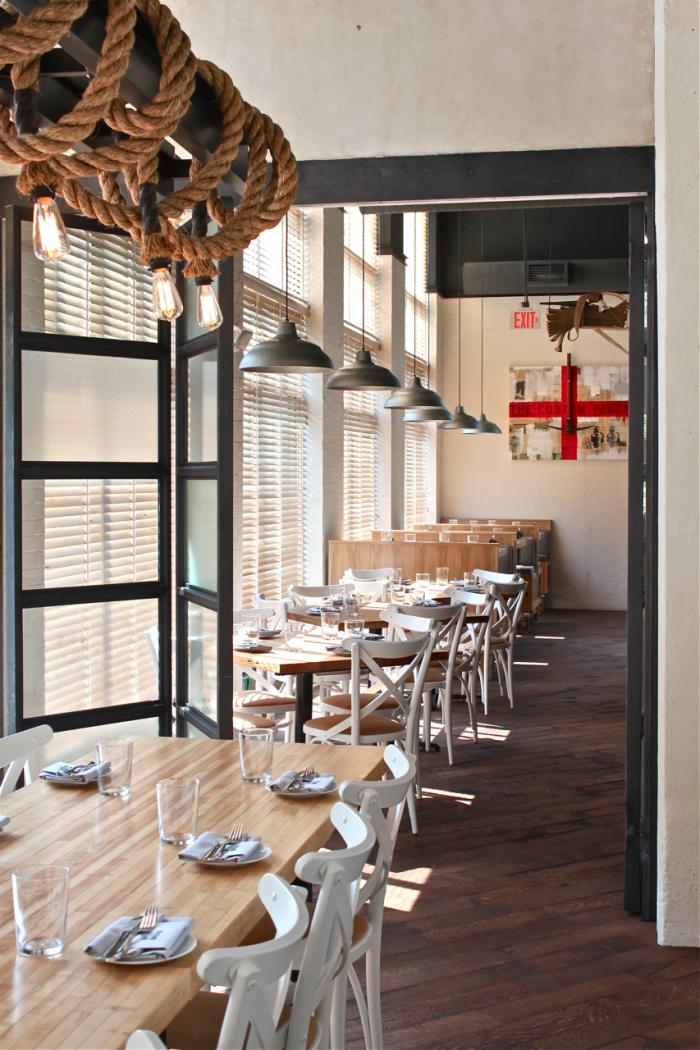 Warehouse Shades, Industrial Pendants Highlight New Boston Restaurant
In a city as old as Boston, there is precious little "new" space. So when the owners of West Bridge, a new restaurant in the historic area of Cambridge, were searching for a suitable space, they moved into the shuttered Boston Woven Hose Factory — think fire hoses — near the Longfellow Bridge which spans the Charles River from Boston into Cambridge. Many of the original features of the factory remain in an industrial salute to the building's past including the 18-foot ceilings and floor-to-ceiling windows.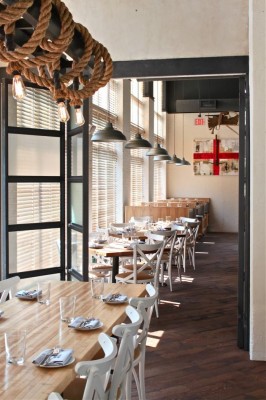 Recycled materials take top billing in this reclaimed space from the long tables crafted from bowling alley floors, to the bar made from rescued barn wood, to the thick ropes used to create industrial style lighting fixtures. And just to the right of the Exit sign in this photo, you can see a nod to the building's original product — stacked vintage woven fire hoses. All of these natural elements lend a warmth to the space and soften its industrial edge.
We love the RLM-inspired warehouse shades here in the main dining room which closely resemble our Bomber Pendant Light. This classic light draws attention no matter where it's hung from dining rooms to kitchens to work spaces. Available in four shade sizes, this fixture casts a generous span of light onto any surface with up to a 200 watt bulb. The Bomber can be customized with a variety of colored cords including cotton twist cords or an eye-catching, red-and-white chevron cord. Adding a cast guard and glass to the fixture will give your light a vintage voice!
In the foreground of this photo, the designers used reclaimed heavy rope strung along a steel beam to create a very industrial light fixture. You can recreate this look with the Barn Light Indy Industrial Pendant, a drop cord fixture that follows a simple industrial style. Add a Nostalgic Edison Style Light Bulb to give this light the finishing vintage touch!
Top photo courtesy of Remodelista