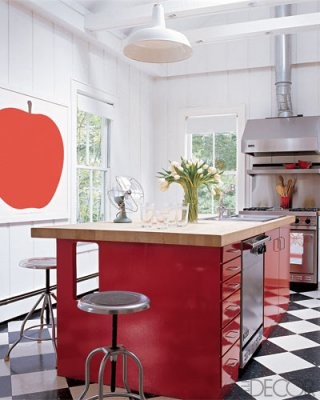 Warehouse Pendant Lights Spotted in the Kitchen of Sarah Jessica Parker
Unless you've been living under a rock for the past few years, you must know who Sarah Jessica Parker is by now. As a natural style icon, she gains attention on the red carpet, and while playing Carrie Bradshaw on Sex and the City. If you don't believe us, take a look at the magazines next time you're stuck in line at the supermarket. Especially around awards season, you're bound to see this fashionista on many of the best-dressed lists.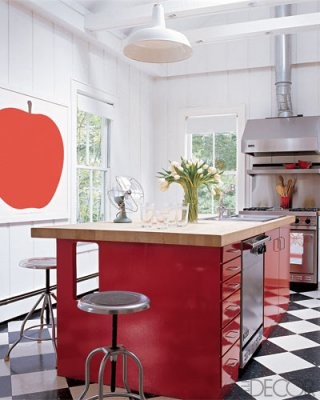 As you would expect, her impeccable fashion sense translated into the décor of her home, however, the style of her kitchen may catch you a little off guard. You may expect to see an über modern room with stainless steel and black marble countertops, right? Not quite – the kitchen shown above is SJP's personal kitchen, packed full of retro diner and farmhouse inspirations. Lacquered red cabinetry along with the large apple print on the wall makes the room feel fresh and unique, while the checkered black and white tile paired with the vintage pendant light above tune into an era long past.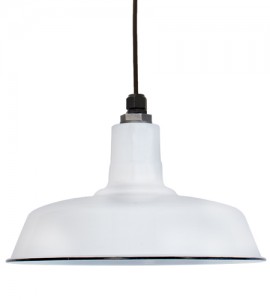 The best part about warehouse light fixtures similar to SJP's? They reach out and appeal to the tastes of the American public, much like Sarah's television personality, Carrie. The Ivanhoe® Sky Chief Warehouse Porcelain Pendant mimics the shape and build of vintage enameled barn lights, but is available in modern finishes like sunshine yellow and rich cobalt blue.
Traditional bright white and forest green are available for those that prefer a historically accurate light fixture, and will also help you snag Sarah's personal look shown above. The broad base of the shade is lined with a black rim and spreads the ideal amount of light over the surface below, which is why these are so frequently chosen as kitchen island and dining room lighting.
Top Photo Courtesy of Elle Décor