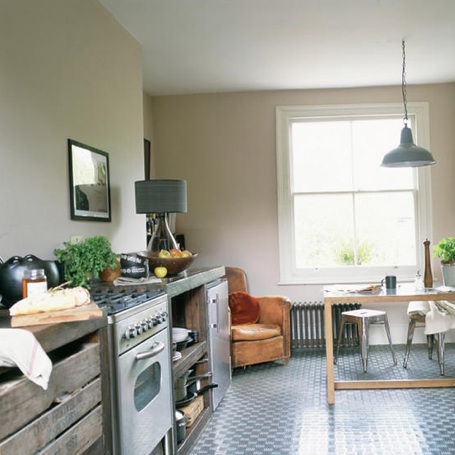 Warehouse Pendant Light Completes Rustic Kitchen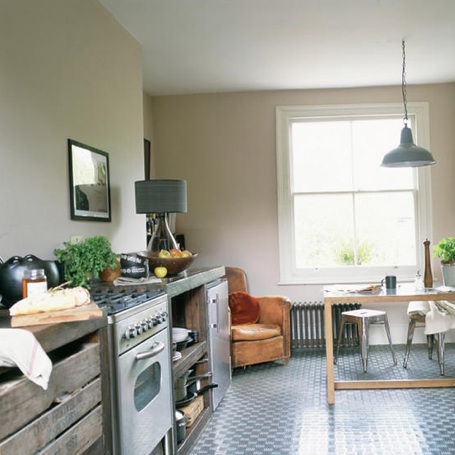 Remodelista is a well-known design website, featuring a "Steal This Look" section. While browsing this section, we rediscovered a rustic kitchen from back in 2008. This kitchen utilizes an industrial farmhouse style with plenty of storage, yet still a cozy feel. By using open shelving underneath the wooden counters, pots and pans are displayed for an even more rustic feel, as well as vintage crates for further organization. We love this industrial design so much that we even developed a line of Vintage Industrial Furniture for you to incorporate into your homes for years to come!

However, Remodelista took note of the barn pendant light over the petite dining table and suggested the Barn Light Vented Warehouse Pendant Light to those wishing to add a similar kitchen light. This barn pendant is available in seven sizes as well as over 50 finish options. Our Sierra Wash finish is similar to that featured above and even has a white shade interior for maximum light reflection. Want to play off the shade of the lamp on the counter? Try Cruiser Green, which also has a white shade interior like this particular pendant! If you are unsure of your finish choice,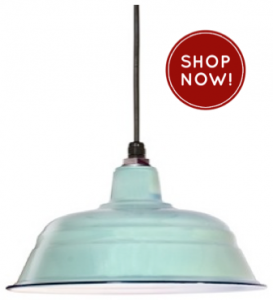 simply contact us before ordering; we'd be more than happy to send some finish samples to you.
Since we began in 2008, Barn Light Electric has even developed our own line of Porcelain Enamel Lighting. The Ivanhoe® Bomber Warehouse Porcelain Pendant features the same deep bowl shade as the featured light above. Our new Jadite finish – an instant hit – even has a black line around the rim just like the vintage barn lights did years ago! This Jadite finish is guaranteed to maintain its retro, sea foam green tone over the decades to come. With that, not only will the Bomber pendant reflect light over time, but also its value!
Top Photo Courtesy of Remodelista