Vintage Warehouse Shades for Rustic East Village Eatery
When the creators of the Northern Spy Food Company opened their doors three years ago, they wanted to bring a bit of country charm straight to the urban heart of New York City. A small neighborhood restaurant located in the East Village, the eatery is named after one of New York State's classic heirloom apples. The restaurant's design embraces the concept of using reclaimed materials, and you can see the effects from floor to ceiling. Customers stroll on reclaimed hickory boards, the old brick walls are painted white to breathe air into the space, a pillar wrapped in rope has a rustic feel, the retail cubbies are crafted from an old chicken coop, and the dining room tables are made from salvaged bowling alley lanes. East Village residents have never seen anything quite like this, and they can't seem to get enough!


Vintage warehouse shades hang in the space lending their own air of early 20th century elegance and charm. These are much like our 12″ Vintage Benjamin® Warehouse Shade found on our Vintage Barn Lighting site. A classic RLM-inspired warehouse shade, this stem mounted fixture is perfect for high traffic areas like a restaurant. The vintage green porcelain exterior is complemented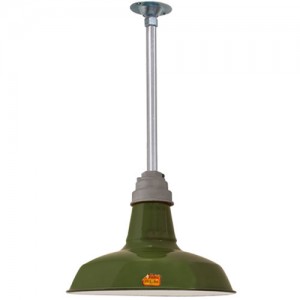 by the bright white porcelain interior which reflects up to a 200 watt bulb for maximum illumination. The glass enamel coating on these lights is extremely durable, resists scratching, and retains its original luster for years with minimal maintenance. A simple soap and water cleanup and a gentle buffing and your light looks like new again!
For other one-of-a-kind, stem mount vintage fixtures, check out our entire Vintage Stem Mount Pendants collection. And for a coordinating look, the 12″ Vintage Green Warehouse Gooseneck Shade would be a perfect match, and it boasts all of the same qualities that you've come to expect from Barn Light Electric products.
Top photos courtesy of Northern Spy Food Company