Vintage Warehouse Shade for Tiny Industrial Kitchen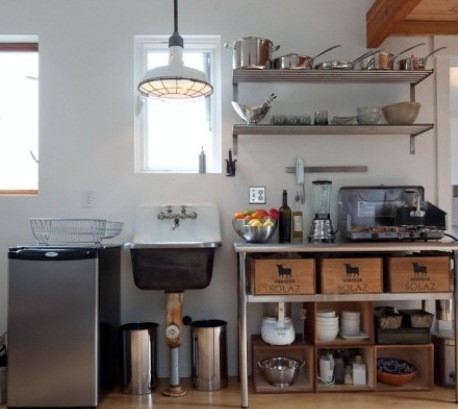 Making the most of small spaces is both a talent and an art form. As seen recently on Houzz, this tiny kitchen is part of a 250-square-foot, garage-turned-home near Seattle. The eclectic design honors the industrial history of the area with exposed shelving, salvaged boxes, reclaimed materials, and industrial lighting. Once used in factories and warehouses, industrial pendants such as this one are now popping up everywhere. Because of their wide span of light, many people choose this style of lighting for the kitchen where they are installed over countertops, kitchen tables, and islands. Not only do they provide plenty of light but they're a focal point with a history all their own!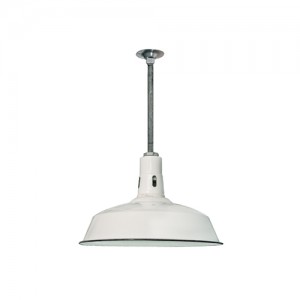 This light is very similar to our 18″ Vintage White Vented Warehouse Stem Mount Shade crafted by the Wheeler™ Lighting Company. The vents in the neck of the shade allow heat to escape which was a necessity on the factory floor for preventing fires and explosions. The Wheeler™ company, along with other lighting giants of the time like Crouse-Hinds™ and Benjamin®, took great care in the manufacturing of their lighting, sparing no expense to create fixtures that were durable and long lasting. Shades were hand spun from steel then a glass enamel coating was applied and baked on to a hard, shiny finish most often in white or green.
Today, you have the option of finding the perfect vintage light for your space by browsing our collections at Vintage Barn Lighting, or you can choose to have a new porcelain light hand crafted by Barn Light Electric right here in America with the same meticulous attention to detail. We spin our shades from commercial grade steel then hand apply the enamel coating to produce a durable coating that will never corrode or fade. And in addition to the classic white and green colors, consider our vivid cobalt blue, creamy jadite, or bright yellow for an updated look!
Top photo courtesy of Ira Lippke for Houzz