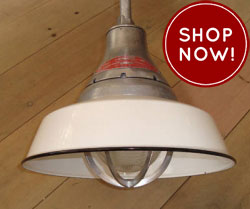 Vintage RLM Warehouse Lights from Crouse-Hinds™ & Appleton™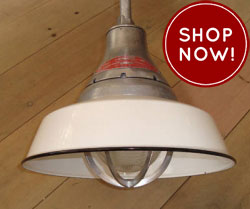 Barn Light Electric has been able to salvage classic RLM warehouse lights and offer them to you under our Vintage Barn Lighting and Crouse-Hinds portions of the website.
Focusing our attention today on Crouse-Hinds and Appleton, these time-honored vintage barn lights have been cleaned and preserved as eclectic trophies of the past. Each displays exceptional craftsmanship that was first released over 50 years ago. Originally, these porcelain pendants were used around factories, auto shops and gas stations. Today, warehouse shades are perfect for accenting above tables, bars, counter tops, or even in a workshop. Just as relevant as they were so long ago, these vintage warehouse shades with stand the test of time, becoming the perfect addition to any nostalgic project.

At the beginning of the 1930's, small industrial lights that hung over factory workbenches were phased out and replaced with RLM warehouse lights. The term RLM lighting comes from the association titled Reflector and Lamp Manufacturers. This group set strict specifications for members within the lighting industry. Today, Barn Light Electric is a proud manufacturer of RLM lighting fixtures, including our American made porcelain enamel Goodrich® gooseneck lights and Ivanhoe® and Benjamin® barn pendant lights.
The original producers of RLM warehouse lights were Benjamin®, Crouse-Hinds, Appleton, and the Miller Company. These enterprising manufacturers created a new variety of designs suited for different demands – some creating explosion proof versions for hazardous commercial applications. As the porcelain barn lights grew in popularity, production was soon halted. In the 1970's, strict regulations on porcelain lighting were created by the newly-formed Environmental Protection Agency or EPA. As a result of the tighter regulations, many manufacturers went out of business. Unfortunately, as factories and warehouses went out of business, they were renovated into lofts or torn down completely, leading to an ultimate destruction of many classic warehouse shades.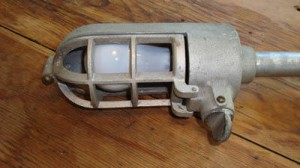 Barn Light Electric has salvaged, cleaned and rewired our collection of vintage barn lights from all across the USA. These heavy duty, industrial grade light fixtures can be brought into your home or business to aid in creating a nostalgic vintage inspired, or industrial farmhouse feel to your home or business.
For more information about vintage barn lights, visit vintagebarnlight.com