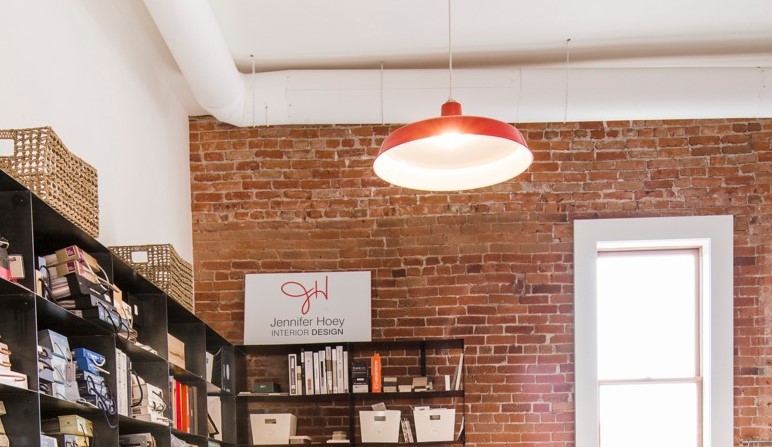 Warehouse Ceiling Lights Add Bold Statement, Color to Studio
When you think of warehouse lighting, what comes to mind? A hanging black or galvanized pendant? Completely functional but lacking in personality or a certain je ne sais quoi?
The professionals at Jennifer Hoey Interior Design know how to turn a completely utilitarian warehouse light into something more. So much more! They recently expanded their office space in Ketchum, Idaho, to include a new conference room and studio with shelf space for samples and large tables to for working on finishes and fabrics.
"We wanted the space to be functional and maximize the storage space as well as be an aesthetically pleasing, modern studio space," says Abbey Christensen, project manager with the firm. "We removed the drywall to uncover the brick walls to add character, then installed reclaimed mixed hardwood floors with a grey stain. For the lighting, we wanted to find a fixture that gave off a lot of good light but matched the aesthetic nature of the room. Barn Light Electric was the answer!"
With their keen eye for design, the team went big with six 28″ Original™ Warehouse Pendant Lights finished with a bold Orange finish. These classic barn pendants were customized with a white ceiling canopy and a standard white cord.
"We wanted to create an open warehouse feel in the space but add a pop of color," Abbey says. "We picked this particular ceiling light for its large size and simple style, and the orange matches our logo."
This Original™ Warehouse Pendant Light is one of the largest warehouse shades we make and is crafted from a single sheet of commercial grade aluminum. To see one of these oversized shades being hand spun, check out this video.
Easy to customize with shade size, finish color, and cording options, this American-made warehouse light can be crafted to complement any residential space and is rugged enough for high-traffic commercial lighting needs too.
"We needed the right amount of light output but also style and color," Abbey notes. "We love the pop of orange!"
Photos courtesy of Ray J. Gadd Photography