Vintage Milk Glass Shades for Family Gourmet Marketplace
You might expect LA eateries to be full of stuffy people and gourmet food, and in the case of Joan's on Third, you'd be right about the food. Starting out as a catering company, Joan's on Third expanded in 1998 to include a gourmet marketplace and cafe on, you guessed it, Third Street in Los Angeles. What you won't find here are the stuffy people. Owner Joan McNamara brings everyone down to earth in her warm and inviting kitchen, and even newcomers quickly become friends in the casual atmosphere. This culinary emporium
offers an extensive selection of cheeses, fresh baked pastries, signature sandwiches, a gelato bar, and select gourmet items from around the world.
While gazing at the chocolate cupcakes which look nothing like grandma's, we noticed the beautiful glass shade pendants highlighting the pastry counter. These are milk glass shades which get their name from the creamy color of the glass. First made in Venice in the 16th century, milk glass became wildly popular towards the end of the 19th century. Today, milk glass shades are part of the burgeoning trend of vintage designs cropping up everywhere from traditional homes to city bakeries.
The shade in the foreground closely resembles our Vintage Milk Glass Shade with a Cotton Twist Cord. This fixture comes with your choice of a nickel or brass socket and has an authentic style cotton twist cord. Choose from several cord colors including black, putty, brown, or red.
The shade in the background is more like our Flared Milk Glass Shade with Cotton Twist Cord. This fixture also comes with either a nickel or brass socket and the same color choices for the cord. Like all our vintage lights, these two fixtures come completely cleaned and with new sockets and wiring. To finish the look of your "new" vintage light, be sure to add a nostalgic Edison style light bulb!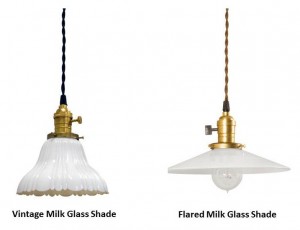 Top photo courtesy Joan's on Third