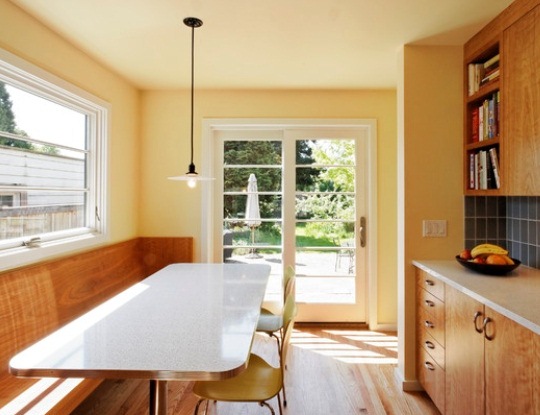 Vintage Glass Shade Pendant for Narrow, Bright Dining Space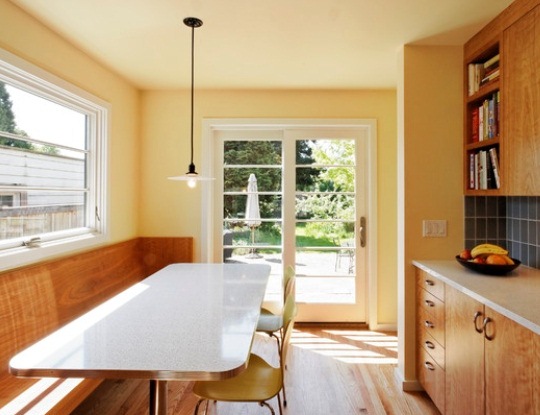 Long, narrow rooms require careful planning when it comes to furniture placement, traffic flow, and lighting. This bright and sunny dining space which flows directly off the kitchen makes use of the room's dimensions very well. The architects who designed this kitchen remodel for a 1930s Portland, Oregon, home were aiming for a "clean, timeless sensibility without sacrificing the space to generic modernism." The built-in cherry bench matches the cherry cabinetry and keeps the flow from the eating area to the cooking area completely seamless.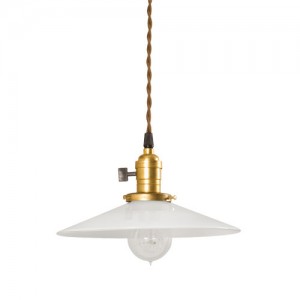 The period reproduction lighting caught our eye when we saw this photo! This light is very similar to our collection of Vintage Milk Glass Shades found on Vintage Barn Lighting. This shade in particular resembles our Flared Milk Glass Shade with Cotton Twist Cord. In an otherwise sleek and pared down space, this shade adds texture and interest with its vintage design. The Flared Milk Glass Shade is more than nine inches wide yet only two-and-a-half inches high. This pendant can be customized with an unfinished brass socket and turn key or choose a polished nickel socket with a knob. The authentic cotton twist cord, which comes in putty, black, brown, or red, is available in seven different lengths ranging from 24″ to 60″ long. The perfect final touch to this fixture is a Nostalgic Edison Style Light Bulb. We offer several styles including a Victorian Era Quad Loop and the 1890-Era Horse Shoe style.
Like all of the lights found on Vintage Barn Lighting, these fixtures are antiques with their own history and character. They are completely cleaned and fitted with new wiring so they come to you ready to hang! Be sure to check out our entire selection that spans a wide range of designs and styles, many dating back to the original barn lights of the early 1940's. These include porcelain warehouse shades, holophane glass pendants, architectural brass lighting, and various vintage hardware.
Top photo courtesy of Howell's Architecture