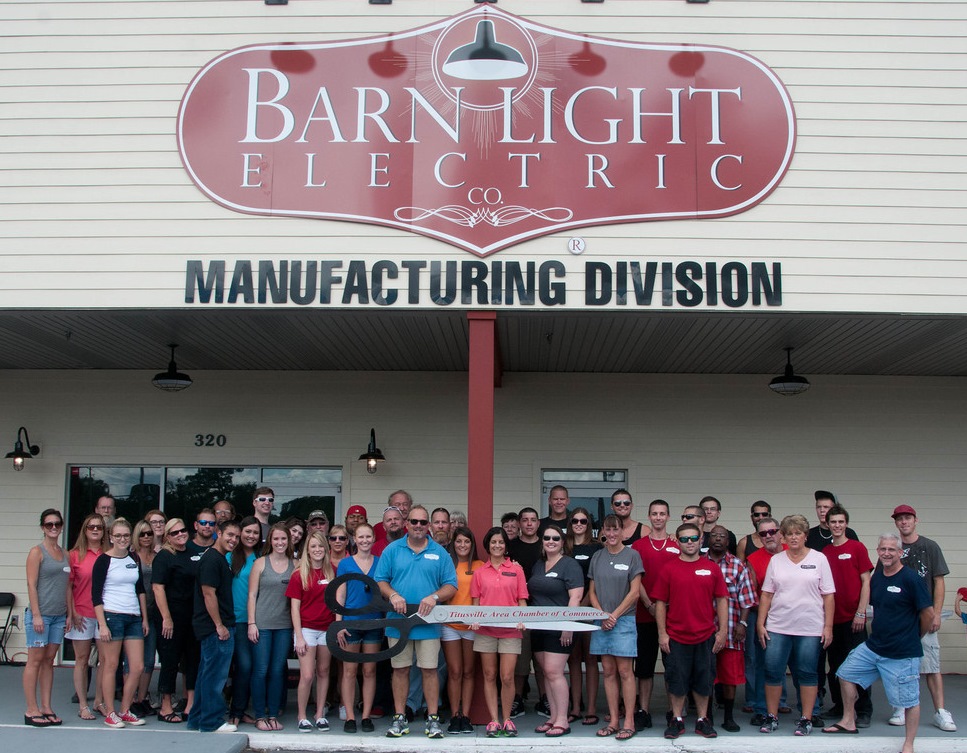 Opening Celebration Featured Sidewalk Sale, Fabulous Food, and a Tour of the New Digs
With the clip of a gigantic pair of scissors, we officially opened the Barn Light Electric Manufacturing Division in Titusville, Florida last Saturday. Well, in reality, it was the small and very sharp pair of scissors hidden behind the giant pair that did the snipping, but we had a grand time with fabulous food, a sidewalk sale, and the Barn Light Electric Super Late Model stock car in the parking lot!
On Friday, the day before the opening, some of our local media showed up to take a peek at what's happening in the new building so we took them on a tour of the facility. Jerry Hume from News 13 filmed a shade being spun by one of our metal spinners and interviewed several of our employees. Jerry also got to check out our painting and inventory departments then saw where our lights are packaged and shipped every day.
Saturday was a quintessential Florida kind of day! Bright blue skies, a gentle breeze from the river, and warm temperatures greeted the crowd that came out to help us celebrate. Tim Russell, one of Florida's most accomplished race car drivers, was on hand with his crew to show off the Barn Light Electric car and sign autographs. Kids in the crowd were thrilled when Tim opened the door and let them sit in the driver's seat!
Although the line for the food was long thanks to the incredible spread laid out across several tables, the sidewalk sale attracted quite a crowd as well thanks to the bargain basement prices put on these fixtures. People were snapping up camouflage goosenecks, porcelain pendants, and colorful wall sconces. Several people were also interested in the commercial lighting that was offered on site including high bay lights and angle shades.
But the biggest attraction of all was the guided tour of the 49,000-square-foot renovated building. The air conditioning was certainly attractive on a day when temps reached into the 90s, but everyone was excited to see just what goes on behind the scenes at Barn Light Electric. An additional 10,000 square feet are already being added to the rear of the building for future expansion.
The day ended with this gorgeous and delicious cake created by Baker's Cakes! Thanks to everyone for coming out to share our special day with us and for the support our hometown community gives us every day!