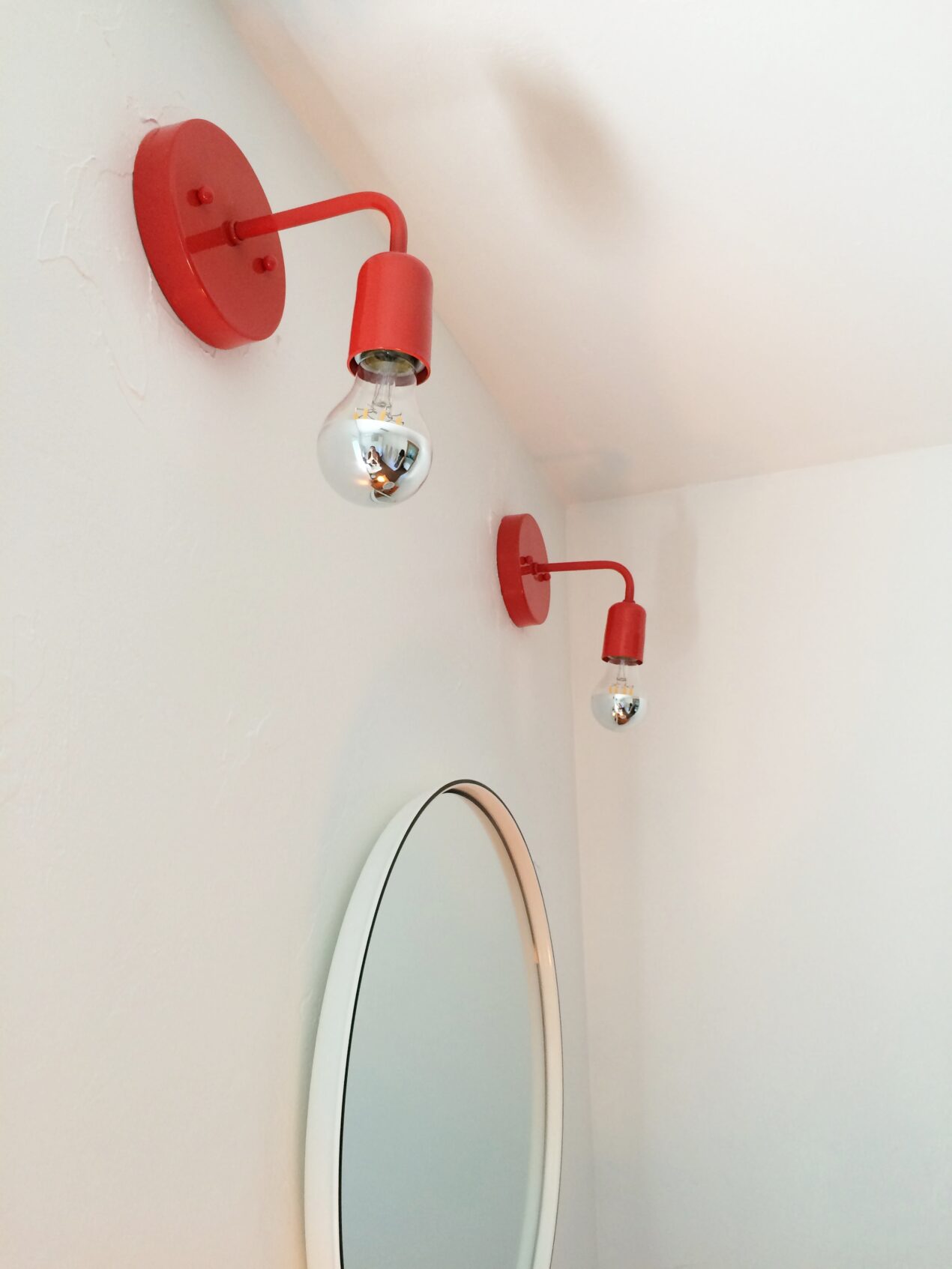 Vanity Lights Provide Cherry on Top for Bath Remodel
How much time do you really spend in front of the bathroom mirror? In the grand scheme of your day, probably not much. So you might not think vanity lights are all that important. But these wall lights not only perform the task of lighting up your face each day so you can be presentable, but they can add an exclamation point to a room that is often overlooked when it comes to style points.
Case in point with Helen's bathroom remodel in Seattle. This project began, as many remodeling projects do, with a simple plan.
"This was the first time I remodeled a bathroom and I had no clue what I was doing," she admits. "I only wanted to replace the floor and give the old claw foot tub a coat of paint." But when the old floor was removed, she discovered little support underneath. The house was built in 1905 which is old for a Seattle home. Helen shut the door and left the project until spring when the foundation could be repaired.
While she waited for better weather, Helen, who owns and operates The Knitting School, struggled with the design direction for her bath. When an artist friend gave her a piece of orange formica, Helen found her focal point. Come spring, her brother Chris fixed the floor, cabinets were built by a woodworker friend, and Helen's dad created the paintings.
"My partner did all the plumbing and together we painted," Helen says. "The whole project is very personal to me." Helen knew she wanted orange vanity lights to coordinate with her countertop and back splash.
"But I also wanted a quality product," she adds. Helen chose the Downtown Minimalist Wall Sconce to highlight the vanity and add a coordinating punch of color to the wall. These handcrafted vanity lights feature an Orange powder coat finish and half chrome light bulbs.
"I liked the clean lines, the minimalist quality, and the industrial feel of the lights," Helen says. "I love that they are American made, like so much else in the room, and the color is perfect. Orange is the new black!"
The Downtown Minimalist Sconce is available in 20 powder coat finishes plus 10 paint-to-match porcelain colors to coordinate with almost any décor. It is also available as a plug-in wall sconce for people on the go who don't want to hard wire their lighting.
"They really stand out," Helen says. "People that check out the new bathroom always see the vanity first, then they look up and say, 'Oh, I like the lights!' They are the cherry on the cake!"
Photos courtesy of the homeowner