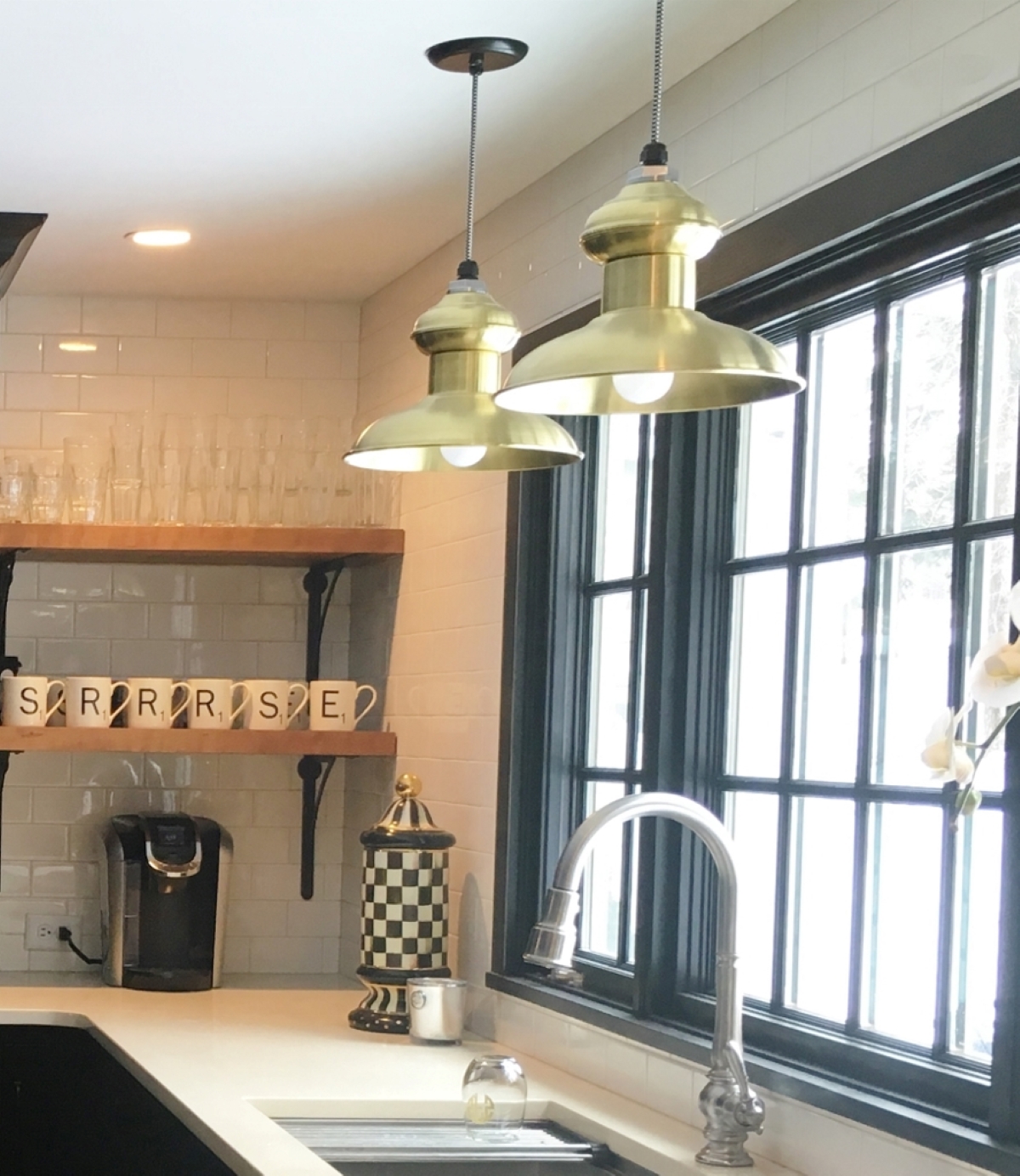 Mid Century Kitchen Remodel Features Classic Brass Pendants
After 25 years in a self-remodeled 1870s village home, Sarah fell in love with a mid century home just outside of Syracuse, New York, built by Charles Umbrecht. An architect and quality craftsman with a substantial following, Umbrect is known for beautiful mouldings, fireplaces, and native limestone floors.
"We took a leap of faith and decided to move to the country. We wanted to update, without ruining, this Umbrecht home," Sarah says. "With the exception of appliances, the kitchen had not been updated since it was built in 1957." She describes the remodel as a "gut-to-the-studs" job.
"We wanted to update while still keeping the integrity of the home," she explains. "We chose subway tiles because it so says '1950' and is a classic." An adjacent keeping room, as Umbrecht called it, features limestone floors, a Rumford-style fireplace, and wall sconces. Sarah chose to keep the brass flowing into the kitchen with two Chestnut Pendant Lights over the sink.
These hand-spun pendants are American made and feature 12″ shades and a raw Brass finish. Sarah also customized her mid century lights with a black-and-white cloth cord. The pendants pick up on the brass detailing in the La Cornue stove, the centerpiece of this small kitchen.
"I chose these raw brass pendants because a black-and-white kitchen with too much stainless would look too contemporary for the house," Sarah explains. "The brass warms it up and adds contrast and pop. I liked the interesting shape of these pendants and the black-and-white fabric cord is soooo 50's!"
Over the small island, Sarah chose the Lafayette SoHo Studio Light to highlight the butcher block. She describes this light as her "funk it up" impulse.
"I love lighting. All kinds," she says. "The size, the floating feeling, and the hint of industrial in this fixture appealed to me. I thought it would give a hint of the unexpected and also not take up too much visual space in the center of the small room."
Sarah chose a Black finish for the studio light as a balance to the other colors in the room. As she searched for lighting, it all came down to materials, good design, and lights that were easy to customize.
"I love the sturdiness of them all," she notes. "They feel and look very high quality."
Photos courtesy of the homeowner