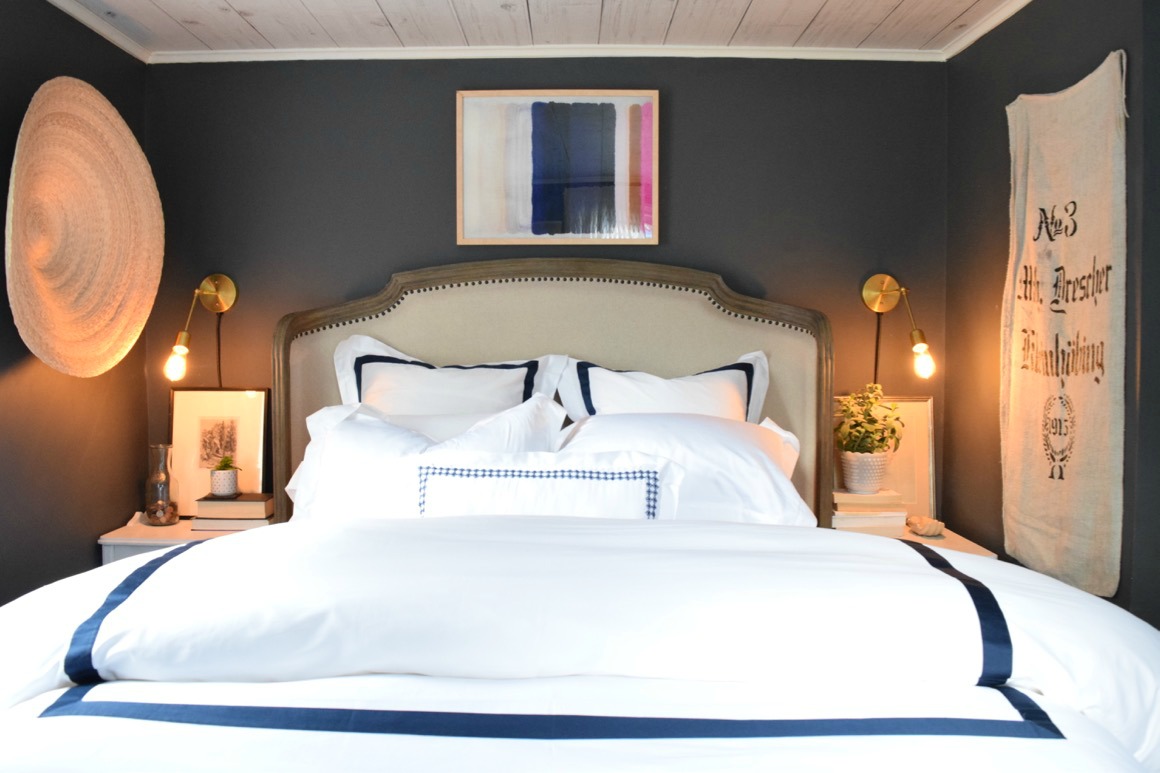 Brass Wall Sconces Offer Dramatic Style in Tight Space
As hard as I try, my nightstand always overflows. This small, but oh-so-functional piece of furniture holds the iHome, my stack of nighttime reading, a notepad and pen, plus a lamp. Then I spotted this blog post by Brooke Christen over on Nesting with Grace. Brass wall sconces not only free up space on the night stand, but they offer an elegant statement in Brooke's master bedroom.
"Our bedroom is on the smallish side," Brooke says. "It measures about 11′ x 12′ without much room for night stands." Brooke has lived in her 1950s-era Connecticut home for almost two years. Although the room was painted almost immediately, it wasn't until recently that Brooke tackled the tasks of wallpapering the ceiling, upgrading the bedding, and adding the space-saving brass wall sconces.
"I really wanted to keep the room simple, yet dramatic," Brooke notes. "Hence the dark walls which are Gray from Benjamin Moore. I knew I wanted to incorporate brass into the room with a lot of different textures and classic finishes. That way I can switch up my bedding without being trapped to a specific color scheme and style."
Brooke chose the Downtown Minimalist Adjustable Plug-In Wall Sconce to fit the tight space on either side of the bed. This American-made wall sconce features a Raw Brass finish in a bare-bulb style that incorporates both vintage and modern details.
"I wanted to do sconces rather than lamps to save space and also add some height and contrast to the bed wall," she explains. "I love to mix metals. Brass and gray looking stunning together in my opinion. I love the contrast and the warmth the brass adds to the cool gray walls."
Brooke opted for the plug-in wall sconces instead of hard-wired. This saves money on an electrician, and also offers the flexibility to move the lights if needed.
"I really just love everything about these brass wall sconces. They are timeless," Brooke says. "People ask if the exposed bulb is too bright, but the Edison bulbs offer such a warm glow. It actually is perfect."
Photos courtesy of Nesting with Grace