Unconventional Gooseneck Lighting for Your Bathroom Vanity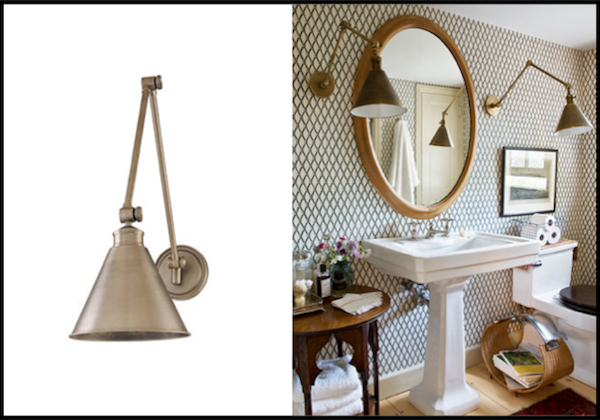 Most gooseneck barn lights you've found probably have a smooth, curved neck with a bit of a historic appeal. Used mostly as garage, entryway and outdoor sign lighting, gooseneck lights are proving to be ideal for interior lighting as well. In some cases, gooseneck barn lights are taking the place of wall sconces found in kitchens and above bathroom vanities. Oftentimes, even the arch of the gooseneck arm mirrors that of the faucets below. The thought of using this style of lighting within the mentioned areas gives us goosebumps (no pun intended).
Not only do they have an interesting appeal to them, but they also may serve a functional, cost efficient purpose. Imagine you need your light source a bit higher or lower than the location of your electrical junction box. The cost of having an electrician move it even inches, is probably going to cost you a pretty penny. That's where our gooseneck lights come into play; their arms come in a variety of sizes and styles so that your light projects in all the right areas.
There are some spaces in our homes where we may need the lighting to be adjustable, up and down or side to side. If you're wanting this feature, and the look shown today, then the Exeter Wall Sconce is the light for you. Just like the sconces flanking the mirror in this traditional and historic style bathroom, the Exeter has an adjustable gooseneck-inspired arm, qualifying it as an ideal light for vanities and work spaces. Found within our Vintage Wall Sconces category, the Exeter is available with a glass shade or the solid, metal shade shown today. The adjustable neck even makes it a valid contender for bedside lighting – isn't it time you replaced those outdated table lamps?
Top Right Photo Courtesy of Décor Pad