Turning an Ordinary Wall into a Piece of Art
We constantly receive photographs from customers and light enthusiast's alike, showing our lighting in everyday settings. Here at Barn Light Electric, when we see a wall or ceiling, we see potential. Potential for an American Made, Commercial Grade, and Custom Designed RLM Barn Light. This potential can be achieved in any home or business, with our endless options for your lighting needs.

The light shown in the photo below is the Chestnut Shade. Available in over 36 Finishes and 38 Gooseneck Arms. This fixture is unique, in that you can also get a cast guard or wire guard and glass. The glass is also available in 7 different choices.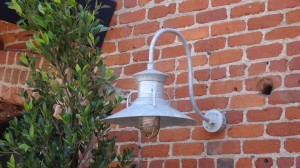 Superior design and Commerical Grade, allows our lighting to have the strongest integrity on the market. American-made, high quality lighting only found here at Barn Light Electric.