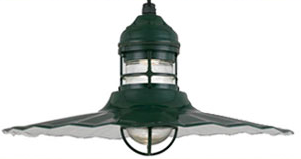 The Creation Of An Innovative Pendant
Common sense would dictate that if you have two popular shades, than you could borrow elements from both of them to create a new shade. Most of the time the combination renders a light fixture that does not work well aesthetically, but that is not the case with the Barn Light Outback Radial Wave Pendant.


By combining the distinct styling elements from the Outback Warehouse Shade and Radial Wave Shade we were able to achieve a design that is stunning and unlike anything else. The Outback Radial Wave features a cast guard and glass unit that is paired with the unmistakable shade of the Radial Wave to develop an unique design. With the exposed glass over the shade, uplighting is achieved. Even though light is exposed through an upward opening, light is able to be cast downward by the addition of a shade. This feature creates an ambient glow that truly showcases the beauty of this one of a kind light.
Even though this light has borrowed industrial and rustic influences, it maintains its own identity and can be used in either setting without endangering the integrity of any particular theme. In fact, the Outback Radial Wave Pendant creates a versatile look and class of its own that would even fit in a decorative marine theme. Experience the welcome glow that this innovative pendant offers, and enjoy this finely crafted light for years to come.