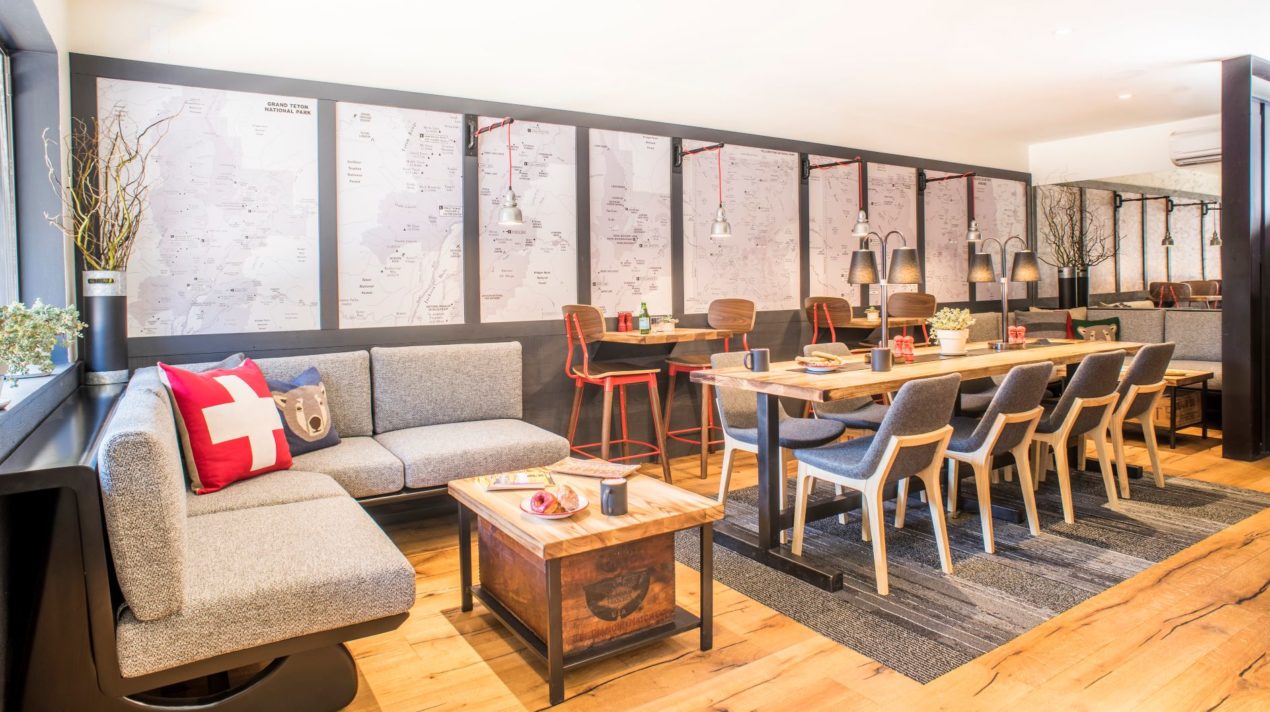 Swing Arm Wall Sconces Blend Rustic & Contemporary Styles
Passing through the doors of the newly renovated Mountain Modern Motel in Jackson, Wyoming, you immediately feel a sense of adventure in the air.
"We wanted to disrupt the textbook motel experience and scale new heights with a Western plaid-to-the-bone style and laid-back mountain vibe," says Erik Dombroski, vice president of sales and marketing of the Yarrow Group who led the renovation efforts.
Influenced by their majestic surroundings, the team designed the motel with contemporary features and vibrant elements that establish a true sense of place. The lobby resembles a modernized base camp with elements of the décor serving a functional purpose.
"A community map table adjacent to the front desk encourages guests to plan their day's adventure," Erik explains. "Our lobby was created to stand in as an outdoor outfitter for guests with functional décor that can be rented and guidebooks on the shelves for easy planning."
In the nearby breakfast room, guests can peruse giant wall murals celebrating the Grand Teton backcountry while filling up with a hearty meal. The tables are lit by Fargo Swing Arm Wall Sconces which provide perfect task lighting without harsh glare.
These handcrafted, adjustable wall sconces feature Galvanized shades and Red cording wrapped around the swing arm.
"We were looking for rustic yet contemporary styles that tied into the outfitter concept," Erk notes. "The customization and color selections of these fixtures was a large factor as we wanted to maintain the Western feel with the galvanized metal and red cording."
The breakfast room, like the décor, is multifunctional, as the tables are hinged to drop down out of the way for other events. The swing arm of the wall sconces allows the fixtures to be moved against the wall and out of the way as needed.
The multifunctional theme is carried to the guest rooms which feature buffalo-plaid blankets, folding leather camp chairs, and farmhouse sinks for cleaning outdoor gear. These Fargo Swing Arm Sconces, customized with Red shades and Black cords, provide light exactly where needed.
"The Barn Light fixtures worked perfectly for this purpose," Erik adds. "They provide great ambiance for guests and tie into the design of the renovated space."
Photos courtesy of Yarrow Group & Mountain Modern Motel