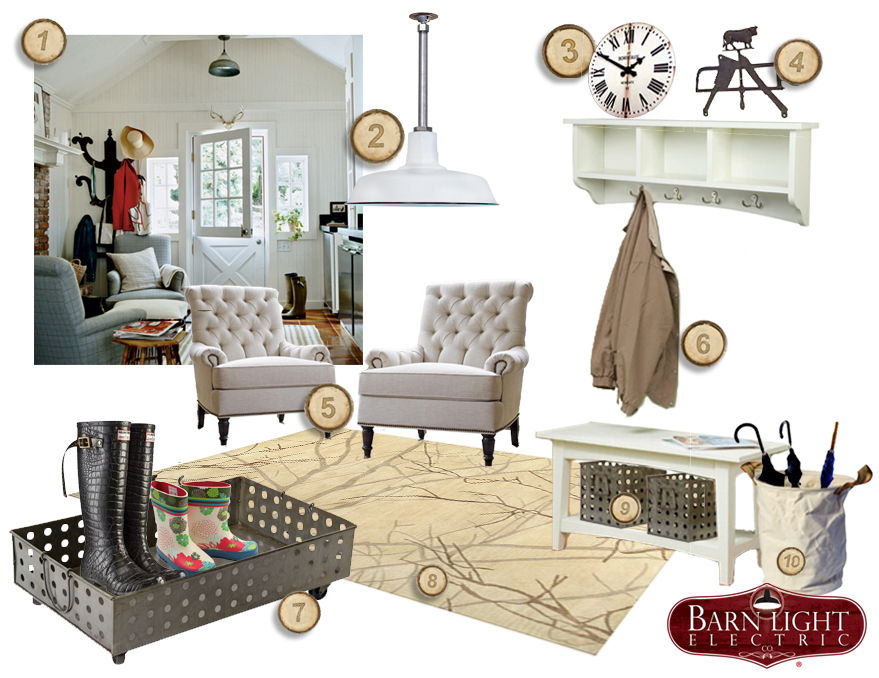 Style Me Sunday: White Winter Mudroom
As the seasons change and the fall chill beckons us to spend a little more time enjoying the outdoors, that means we also spend a little more time prepping our mudrooms for the extra use! If you don't have the luxury of an extra entry-way mudroom, you can always incorporate these pieces into your foyer or living room to transition them into functional, stylish spaces!

Organization is key in these types of rooms. The Alaterra Shaker Cottage Bench and Coat Rack Set's clean design is the perfect foundation for a light color palette. Just because it's a mudroom doesn't mean it has to look dirty!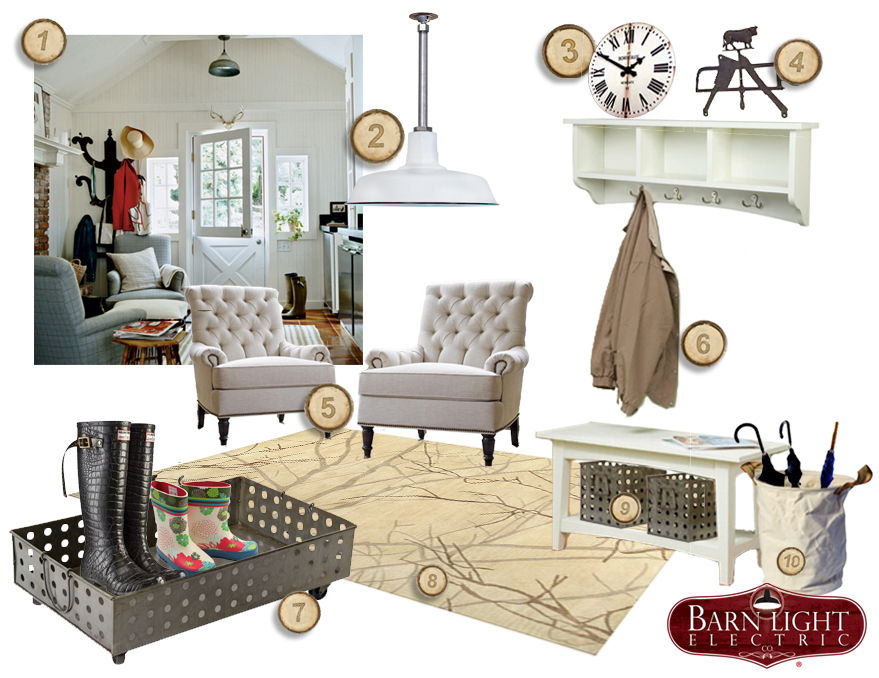 To prevent rain boots and shoes from tracking footprints all over, try incorporating a Rolling Metal Dolly for a little industrial edge. Coordinate your rolling dolly with baskets like these nifty Decorative Metal Cabinet Basket for more storage. Doesn't this Canvas Basket with Handles make a great umbrella holder?
The Bashian Greenwich Fantasy Ivory Rug is ideal for showing off your excellent taste while it conceals little stains that might occur on the high traffic floor space. Once your guests have stripped off their outer layers, they can sit pretty in your elegant Cambridge Chairs.
Time to accessorize! This patina Butcher Trade Sign and Benjamin™ Sky Chief are two pastoral inspired design elements that will maintain their barn style charm for years to come! Vintage inspired clocks like the Bordeaux Tin Wall Clock will captivate your friends with intricate details and unique faces.
If you are looking to redecorate, we're excited to announce our exclusive facebook sale! In celebration of the ending of Daylight Savings Time, we are offering 10% off our entire Vintage Time Keeping selection. Just "like" our facebook to learn more about the deal. You better hurry, because the sale ends tonight!
1 – Photo from "Mini Warehouse Ceiling Light for a Small Mudroom"
2 – Benjamin® Sky Chief in white
4 – Butcher Trade Sign | Green Patina
5 – Cambridge Chair by Thibaut
6 – Alaterra Shaker Cottage Bench and Coat Rack Set
7 – Rolling Metal Dolly
8 – Bashian Greenwich Fantasy Ivory Rug
9 – Decorative Metal Cabinet Basket