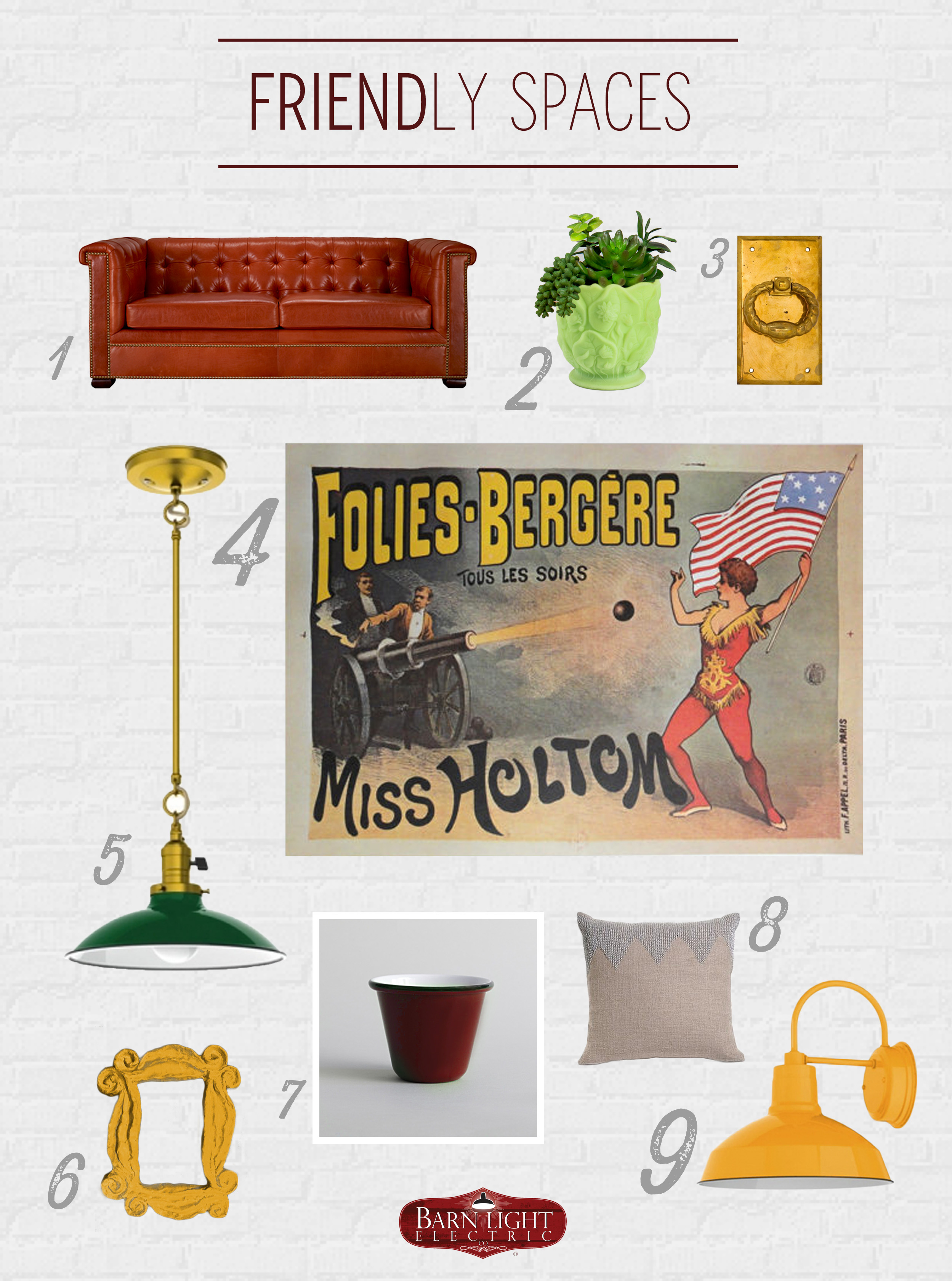 Style Me Sunday: Friend-ly Spaces
I'm a little behind the 8-ball when it comes to classic television. As much as I enjoy curling up on the couch with a bag of popcorn for a night of per-recorded fun, I'm about a decade behind the band of buddies on Friends. I started the first season this week and was surprised about how much I recognized the show's creative set design. In case you're like me, pre-Friends, the show originates in the mid-90s and revolves around the lives of six friends. It's wacky, endearing, and quite colorful.
Perhaps I've been exposed to the set design through commercials and clips, but the more I spend time watching life unfold in fictional locations like Central Perk and Monica's apartment, the more I want to incorporate the bright and textured sensibilities of the Friend's set design in my own apartment.
While I don't think I could pull off purple walls and an over-sized rug in my living room, I think these ideas could easily translate from TV set to everyday space.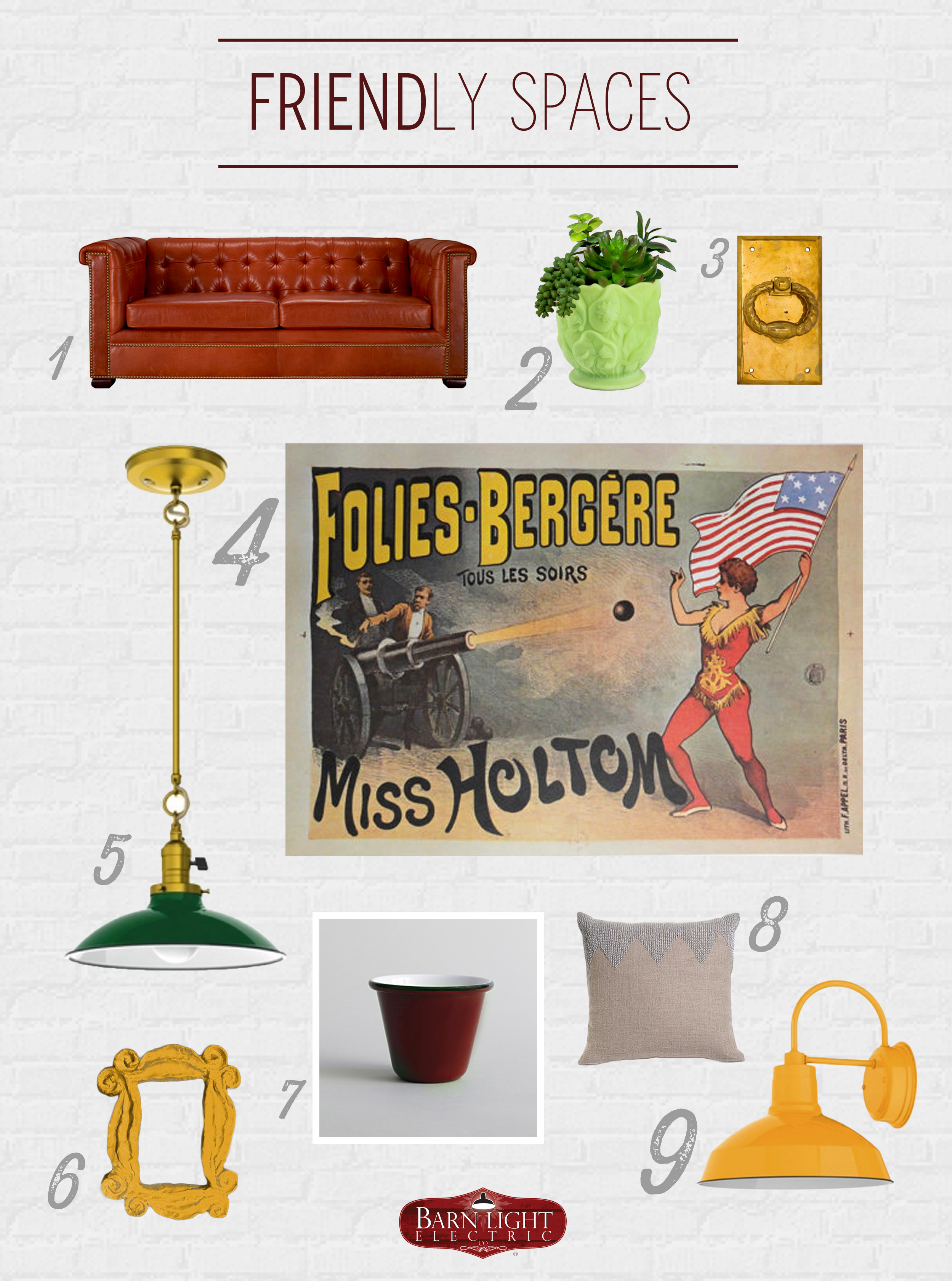 1. Every "friendly" space needs a cozy couch. This tufted sofa from Leathercraft has such a warm and welcoming texture and would make a perfect keeper-couch for those who are just starting out in life.
2. When you think of '90s interior design, I'm sure the first thing that pops into your mind is a bright colored space or quirky textile. I love the idea of such free-spirited interiors, but to modernize it, it's important to reel it in. Add a pop of neon with a neon accent, like this vintage Fenton Satin Glass Planter.
3. Knock knock. Who's there? Oh wait, you don't have a door knocker? It's easy to remedy that solution with this brass hardware decor staple.
4. One of the best things about Monica's abode is her unique taste in art. While her housekeeping style is neat and tidy, she isn't afraid to get adventurous with her wall décor. Incorporate the look of her curated taste with a vintage poster like this vintage circus poster!
5. In the '90s, brass finish was everywhere. Door knobs, kitchen faucets, chandeliers… It was an accessible way to add a little glimmer. Since it's come back, we've loved surrounding ourselves with this metallic accent, especially in period style lighting like the Sinclair Stem & Loop!
6. While I can't say I am a die-hard Friends fan (yet!), I wouldn't mind adorning a bright yellow Peephole Door Frame to my door's interior. This replica door frame would be such a great stocking stuffer!
7. Want to serve your friends a little iced coffee? Be sure to pour your brew in an enamelware cup.
8. Soften up your space with cozy textiles. If quilted blankets and checker-patterned are not your friend, you might like a little more understated style like this linen pillow from Nate Berkus. Mix and match your pillows for an extra eclectic look!
9. Give your guests a something yellow to brighten their entrance with the porcelain enamel Dino Wall Sconce.