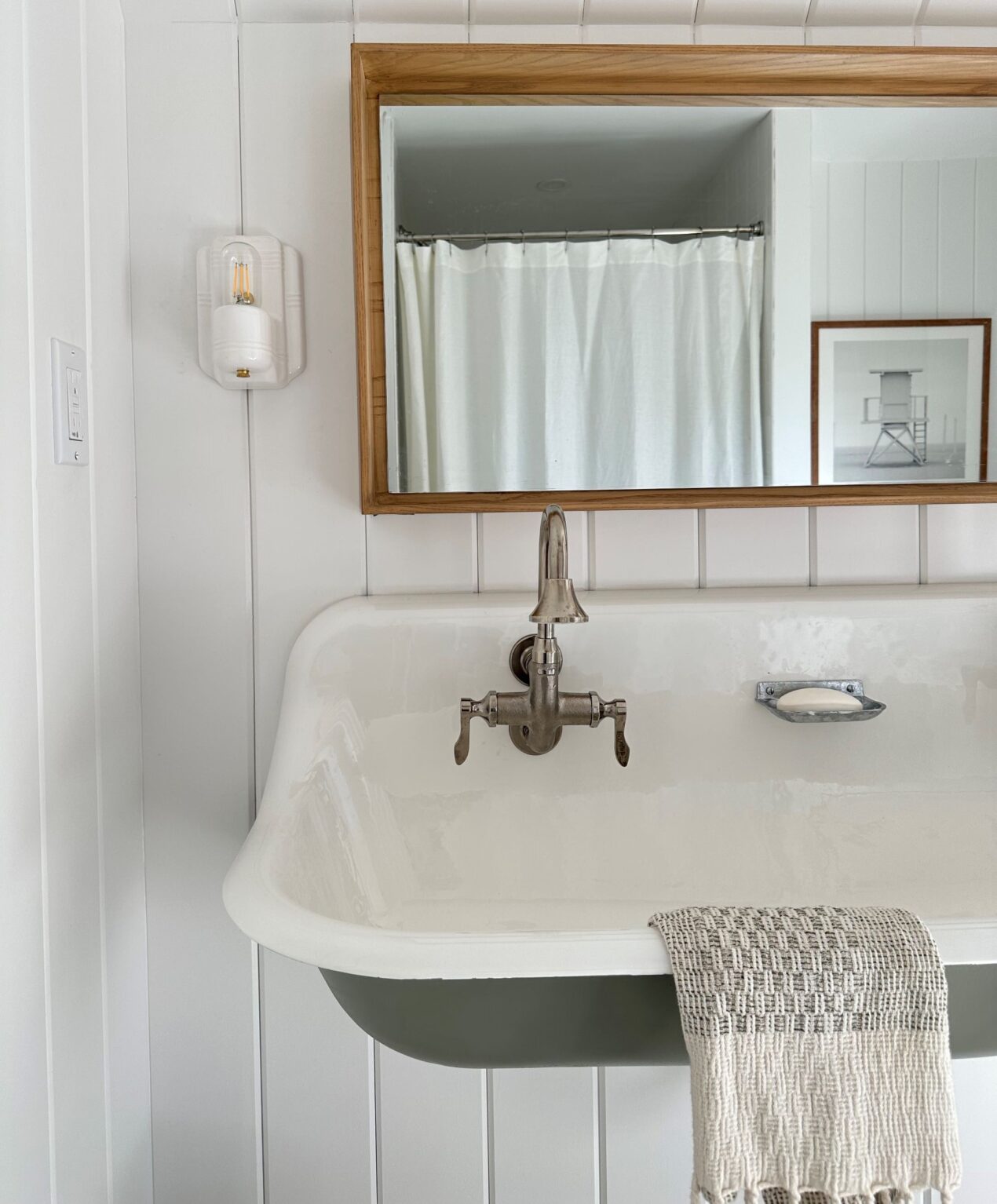 Stunning Bathroom Reno Includes Customizable Wall Sconces 
As one of the smaller rooms in a home, the humble bathroom is often overlooked when it comes to design details. But our friend Caitlin from The Picket Fence Projects has shown us that even these smaller spaces can and deserve to be stylish as well as functional!
Caitlin recently tackled a full-gut renovation on an original 1950s-era bathroom in her Fairfield, Connecticut home. She wanted to respect the vintage roots of her home while making her children's Jack-and-Jill bath feel updated and refreshed.
"I wanted to add some elements that felt appropriate to the time period of the house," Caitlin says. "The original cast-iron bathtub and square, checkered floor tiles feel very 1950s but fresh and modern at the same time." The high-back trough sink and tongue-and-groove walls add to the farmhouse charm of the space.
When searching for vanity lighting for the renovated bathroom, Caitlin turned to Barn Light Electric, the Florida-based manufacturer where she purchased entryway lighting for her former home.
"Barn Light always comes up in my searches as a great option for sourcing lighting," she explains. "I wanted something that felt mid-century vintage but also fresh and new." Caitlin honed in on the Kao Wall Sconce as the perfect wall light for the vanity. She customized these two sconces with a White powder coat finish.
"I love that there is the option to customize with different finish colors," she notes. "The white feels classic in this space. Also, the floor tiles make a big statement, so I was OK with the sconces being a little quieter." Caitlin adds that she loves the ambient light the sconces offer when the overhead cans are off as well as the juxtaposition of the sconces against the more modern, sharp lines of the wooden mirror frame.
"These are cool and aesthetically fit the bill for the look I was going for!" Caitlin says. "I love the brass detail on the Kao Wall Sconce, and I knew I could trust the quality of Barn Light Electric."
Pop over to Caitlin's Instagram feed for a before-and-after video to fully appreciate the transformation!
Photos courtesy of The Picket Fence Projects